Ariana Grande, Fearless Pop Princess, Fought Back Tears During an Awards Acceptance Speech
She later celebrated by getting tattoos with her grandma.
---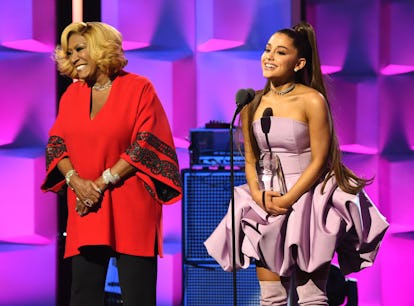 Kevin Mazur/Getty Images
Ariana Grande is well aware that she's been riding an emotional roller coaster since 2018 began. It's been a rough year for her personal life (particularly in the relationships department), but she has also experienced an incredible amount of growth in her professional career, and the singer remains open about the tricky nature of trying to reconcile both.
At Billboard's annual Women in Music Awards, Grande took the stage to humbly accept the Woman of the Year Award, which was handed off to her by none other than Patti LaBelle, who appeared to be even giddier than the pop star.
She started off with a self-aware joke about her purple "loofah"-shaped dress ("Thank you guys so much for coming to my quinceñera," she quipped) but continued with a sincere message, addressing the "male-dominated" nature of the music industry and expressing her gratitude and shock that she received a standing ovation from the room.
"I wanna say that I find it interesting that this has been one of like the best years of my career and like the worst of my life," Grande began. "I'm not saying that for sympathy, I'm saying that because I feel like a lot of people would look at someone in my position right now, I guess, like, Woman of the Year, an artist that could be at her peak, whatever, and think, she's really got her shit together, you know. She's really on it, she's got it all. And I do, but as far as my personal life goes, I really have no idea what the fuck I'm doing," she continued. The singer then espoused some wisdom for the viewers. "I just want to say that if you're someone out there who has no idea what this next chapter's gonna bring, you're not alone in that," she said, just before she began to fight back a few tears.
"Ew, I'm not gonna cry…. that's really annoying…. I'm not gonna do that," she said.
Grande credited her friends Tayla Parx and Victoria Monét with helping her make it through the recent studio sessions she's been working on for her upcoming album. She also revealed that the tone of her highly anticipated project would be like "if First Wives Club were an album."
Grande then ended the speech by stating that in the coming months, she will be taking some of the energy she has devoted to others in the past and giving it to herself. "I look forward to hopefully learning to give some of the love and forgiveness that I've given away so frivolously and easily to men in the past to myself, hopefully, this year," she said.
Later that evening, Grande celebrated her win by debuting a brand-new tattoo on her hand: a collection of moon and stars by the artist Mira Mariah. Her grandmother followed suit by getting some ink of her own—a tiny finger tattoo that read "Ciccio"—without flinching, and told her granddaughter "I've had a little more excitement than this," because fearlessness is something that runs in the Grande family.
Related: Ariana Grande Asks Her Fans to "Be Gentler" After Pete Davidson Posts About Receiving Death Threats