From Ariana to Madonna: A History of Pop Stars Recreating Iconic Movies in Their Music Videos
From Ariana to Madonna, there's a long history of divas dressing up in movie drag.
---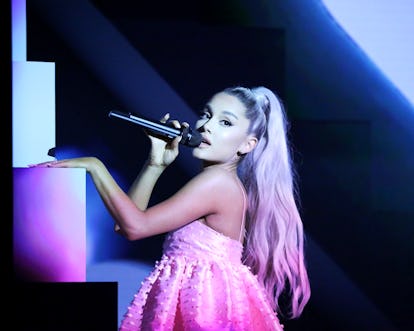 Getty Images
As the entire world seems to know by now, Ariana Grande is recreating four different classic teen films and rom-coms for her hotly anticipated "Thank U, Next" video. She's certainly overachieving when it comes to quantity of movie references in a single video, but she's far from the first pop diva to dig into her VHS collection for inspiration in lieu of creating a brand new mood board. From Madonna to Beyoncé, pop stars love dressing up as their film idols. It's not hard to see the appeal.
A pop career not only requires, you know, a steady stream of catchy pop music, but a whole lot of visuals to go with it. It works best if you can create something truly original, sure, but often pop music videos are a big old mashup of disparate images drawing on everything from modern art, fashion photography, history, cinema, and street culture. Even then, it's not guaranteed that the result will truly strike people and get them talking.
A carefully deployed movie recreation, though, is almost certainly sure to grab people's attention (nostalgia sells), and pretty much everyone's done it at this point. Here, a short history.
Madonna as Marilyn Monroe in "Gentleman Prefer Blondes"
Like so many other pages in the modern pop star playbook, this one was polished and perfected by Madonna. The second single off her star-cementing second album Like a Virgin, "Material Girl" is among a handful of the star's hits she didn't co-write herself. At the time she seemed pretty eager to point out that she herself was not actually that materialistic when it came to finding a man (she had been dating broke musicians, DJs and artists on the Lower East Side just a few years before), and wanted to frame the song as something cheeky and ironic. So she adapted the guise of Marilyn Monroe's unabashed gold digger character Lorelei Lee from Gentlemen Prefer Blondes and recreated the "Diamonds are a Girls Best Friends" scene, and the balanced it with scenes of her off the set.
This wouldn't be the last time Madonna paid homage to specific movies in her music videos, but it may be her poppiest. Later in her career she'd stick to recreating film school syllabus canon like Metropolis and Maya Deren's At Land.
Beyoncé and Whitney Houston as Audrey Hepburn in Funny Face
Audrey Hepburn's turn as Jo, a woman who runs away from the chance at a modeling career to pursue her true passion (philosophy!) didn't win her any accolades and wasn't initially a major hit, but in the years since the scene in which she pulls off some offbeat dance moves in a black turtleneck has become one of the enduring images of her career. So much so that not one, but two of the most legendary divas of all time have paid homage. Whitney Houston did it first (of course) in her "I'm Your Baby Tonight" video (which also saw her channel Diana Ross and Marlene Dietrich in Blonde Venus), while Beyoncé conjured the singer for her "Countdown" video.
Paula Abdul as Natalie Wood in Rebel Without a Cause
Paula Abdul's reign as one of pop's top divas may have been brief in retrospect, but that doesn't mean it wasn't any less grand. Her 1991 bop "Rush, Rush" spent five weeks atop the charts and ended up as the 16th most successful single of the entire decade. For the video she decided to pay homage to the climatic drag race scene from Rebel Without a Cause, using the exact same location and replicating many elements shot-for-shot. Abdul, of course, took on the Natalie Wood role, and her chose of James Dean couldn't have been more perfect for the early '90s: it was none other than Keanu Reeves.
The Spice Girls as, Well, a Whole Lot of Different Movie Characters
While they were a group, the Spice Girls revelled in their individuality. So when they decided to do the "lets dress up as a movie characters!" music video, naturally, each Spice got to chose her own distinct inspiration. Victoria Beckham went with Michelle Pfieffer in Batman Returns, Mel B channeled Tina Turner in Mad Max Beyond Thunderdome, Emma Bunton was the little girl in Poltergeist, Mel C paid homage to Ariane Koizumi in Year of the Drag, while Geri Halliwell did Rita Hayworth in Gilda.
Jennifer Lopez and Geri Halliwell as Jennifer Beals in Flashdance
Apparently Halliwell got a kick out of recreating music scenes, because when she set out on her infamous solo career she decided to recreate the famous audition scene from the movie Flashdance for her visual for her cover of "It's Raining Men" in 2001. The video didn't make much of a splash in America, freeing Lopez to do her own version for her single "I'm Glad" in 2003.
Gwen Stefani as Julie Andrews in The Sound of Music
Gwen may have come up through the SoCal ska scene, but she's still a little bit of a musical theater kid at heart. She grew up worshiping Julie Andrews in The Sound of Music, so much so that she just went out and decided to make one of the oddest sampling choices in recent pop history: building a dance song around "The Lonely Goatherd" (a decision that the song's producer, Pharrell Williams, wasn't behind at the time). When it came time for the video, of course she had no choice but to make nods towards the movie.
Iggy Azalea as Alicia Silverstone in Clueless
Does anyone really need reminding about this?