All the Cameos in Ariana Grande's "Thank U, Next" Video: a Guide
Here's a guide to every celebrity cameo in the video—from Kris Jenner to Mean Girls' Aaron Samuels.
---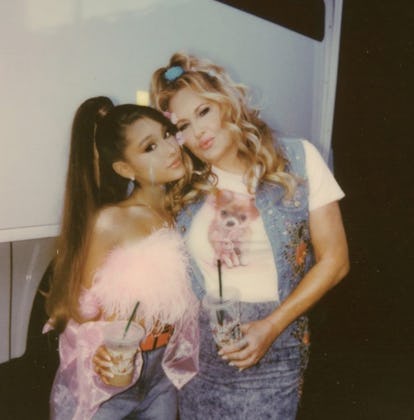 Instagram/arianagrande
On Friday, after teasing the "Thank U, Next" music video for what felt like years but, in actuality, was just 12 very long days, Ariana Grande finally released the full-length clip. As she revealed in those interminable days ahead of the drop, the video features a plethora of celebrities, including some of the actual stars from the four romantic comedies she pays tribute to in the video—Mean Girls, Legally Blonde, Bring It On, and 13 Going on 30—plus a real live Kardashian-Jenner, as was speculated before the release.
The KUWTK star in question who makes an appearance in the clip is none other than Kris Jenner, playing Grande-as-Regina George's camcorder-toting mother in the Mean Girls–themed section of the video. Though she's not a "Kardashian sister," as TMZ had categorized the mystery cameo, the momager does bear a passing resemblance to Grande's mother, Joan, who, as Grande revealed earlier this week, chose not to appear in the video. Last week, Grande tweeted, "i did get someone to play her. meaning i got somebody to play @joangrande playing mrs. george," which is, perhaps, the role Jenner was born to play.
Here's a guide to all the celebrity cameos—Kardashian-Jenners and otherwise—in the video.
Jonathan Bennett: The Mean Girls star appears to be reprising his role as Aaron Samuels in Grande's parody of the 2004 film. In the gossipy intro to the music video, a letter-jacket-clad Bennett pops up to quip, "Ariana Grande told me my hair looks sexy pushed back—she's not wrong."
Stefanie Drummond: After claiming in Mean Girls that being punched in the face by Regina George was "awesome," Drummond, too, turned back time to participate in Grande's video. In the intro, she pokes fun at Grande's previous engagement to Pete Davidson, saying, "Ariana broke off an engagement, so I found a guy to propose to me and I broke off an engagement."
Troye Sivan: Sivan, who collaborated with Grande on his song "Dance to This" earlier this year, is also in the Mean Girls–inspired bit. "I heard she's a lesbian now and dating some girl named Aubrey," he says, referring to the error Apple Music initially made when publishing the lyrics to "Thank U, Next."
Colleen Ballinger: Perhaps best known for her YouTube persona Miranda Sings, a visibly pregnant Ballinger appears in Grande's video to joke, "One time, on Twitter, I heard Ariana Grande got pregnant, so I got pregnant so we could be pregnant at the same time. Turns out it was just a rumor."
Gabi DeMartino: At the very end of the opening section, DeMartino, a YouTuber who has previously inspired rage in Grande's fans for her impressions of the singer, pays homage to Drummond's original line. "Ariana says, 'Honest to God, knock me out,' so I decided to punch myself in the face. It was awesome," she deadpans.
Kris Jenner: As Grande and The Plastics recreate that infamous dance to "Jingle Bell Rock," Jenner whips out her video camera to serve as the ultimate stage mom to the pop star. And if you stick around until the very end of the video, you're treated to a gleeful Jenner shouting, "Thank you, next, bitch!"
Matt Bennett: Grande called on her former Victorious castmate to help her recreate that iconic toothbrushing scene from Bring It On. In the clip, Bennett serves as the Cliff to Grande's Torrance as they somehow make brushing their teeth look like the flirtiest activity possible for two pajama-clad teens.
Jennifer Coolidge: Last week, as she slowly revealed the four movies featured in the video, Grande shared a photo on Instagram of her and the Legally Blonde star Jennifer Coolidge. "New best friend," she captioned the photo, in which Coolidge appears to be wearing the same denim-on-denim outfit her character Paulette does in the 2001 film. In the actual video, Coolidge learns the bend-and-snap from Grande and, of course, falls in love with her dream deliveryman.
Elizabeth Gillies: The Dynasty actress, who also costarred with Grande on Nickelodeon's Victorious, steps into Cady Heron's shoes in the Mean Girls–inspired portion of the music video. Her resemblance to the character even prompted the original Cady to write on Instagram, "ain't nobody Lindsay Lohan like the real Lindsay Lohan. But so flattered by @arianagrande loving #MeanGirls so much! Also, I love #dynasty."
Toulouse the Beagle-Chihuahua Mix, and Other Assorted Friends: Grande's dog Toulouse takes on the challenging role of Legally Blonde's Bruiser Woods and, according to a tweet from Grande, does so with aplomb. "He's the most professional living being i've ever been on set with and no part of me is kidding," she wrote.
Rounding out the rest of the video's cast are several more of Grande's close friends. The backup dancer Scott Nicholson dresses in drag to portray yet another gossipy high schooler in the Mean Girls parody, while Courtney Chipolone and Alexa Luria serve as Gretchen Wiener and Karen Smith to Grande's Regina George. Comprising the East Compton Clovers cheer team from Bring It On, meanwhile, are Tayla Parx and Victoria Monét, with whom Grande co-wrote "Thank U, Next," as well as the dancers Nekai Johnson, Patience Aquart, and Luz Remigio-Frias.
And here, finally, is the full "Thank U, Next" video:
Related: Ariana Grande's First Live Performance of "Thank U, Next" Was a Tip of the Hat to The First Wives Club