Ariana Grande Is Relying on Her Tight-Knit Friend Group Since Saying "Thank U, Next" to Pete Davidson
These are the people to whom she'll never say "thank u, next."
---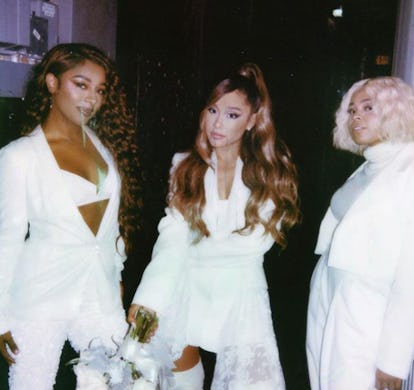 Instagram/arianagrande
It's no secret that the past year and a half have been especially tough for Ariana Grande. Since the deadly bombing at her May 2017 Manchester concert that left her struggling with panic attacks and other PTSD symptoms, she dove headfirst into and then called off an engagement, and also had to mourn another ex-boyfriend. As she recently summed up the seemingly endless stream of misfortunes: "can i pls have one okay day. just one. pls."
Despite it all, however, Grande has remained relentlessly positive, releasing hopeful songs like "No Tears Left to Cry" and "Breathin'," as well as what might be the most generous breakup track of all time. Throughout the ups and downs, the pop star has found solace in her music, her family members, her therapist, and, perhaps most importantly in recent weeks, her ever-present, always supportive group of friends. Here's a refresher on whom Grande counts among these close pals, and how they've helped her say "Thank U, Next" to every curveball life has thrown her way lately.
The Sweetener singer's recent outpouring of love for her friends began around the end of October, about two weeks after she and Pete Davidson reportedly split. At the time, she posted photos and videos on her Instagram Story of her toasting glasses of wine with her longtime friends Alexa Luria, whom she met in elementary school; Victoria Monét, with whom she's been collaborating since her debut album, 2013's Yours Truly; Doug Middlebrook, her tour and production manager; and Aaron Simon Gross, with whom she starred in the musical 13 on Broadway, in 2008. "I have no words to describe how much I love and am eternally grateful for these human beings who constantly help me turn lemons into lemonade and literally heal me and put me back together," she captioned one of the posts.
A few days later, on Saturday, November 3, Grande released "Thank U, Next," which was written by Grande, Monét, and another of her friends, Tayla Parx (née Taylor Parks, another of Grande's longtime collaborators). In tweets she posted that day about the song and her upcoming album of the same name, Grande revealed that she'd called in her "best friends" to collaborate on the project. Since then, she's continued to shower love and gratitude on her pals via sweet replies to their own tweets, including one on Thursday in which she begged Monét to come to her house since "i need to hug my best friend." In another tweet on Thursday, Grande shared a screenshot of a text conversation with her cousin and close friend Courtney Chipolone, about Chipolone's "meat head dude" neighbors' love of "Thank U, Next."
And Grande and her friends showed off their tight bond offline this week too. On Wednesday, she brought Parx and Monét with her to The Ellen DeGeneres Show, where the trio dressed up as Goldie Hawn, Bette Midler, and Diane Keaton's characters in The First Wives Club to perform Grande's latest single.
To cap it all off, on Thursday night, Parx and Monét arranged for a mariachi band to come to Grande's house and serenade her with a rendition of "Thank U, Next," while surrounded by the duo, Middlebrook, and a few more of her friends, including Grande's former Victorious costar Matt Bennett and music director Alfredo Flores. "Yoooooooooo i can't believe my friends got me a mariachi band last night. that shit was wild. i think that's the nicest thing anyone's ever done for me," Grande tweeted, also sharing photos and videos of the squad dancing deliriously on her patio.
On Friday morning, Grande tweeted—in an almost complete reversal of her beg only a few weeks earlier for "just one okay day"—"life may not be what u expect but it ain't that bad." Not when you've got friends that'll hire a mariachi band to play your record-breaking new single, it ain't!
Related: A Visual Celebration of Ariana Grande's Signature Ponytail Going From Side to Side
A Visual Celebration of Ariana Grande's Signature Ponytail Going from Side to Side
Ariana Grande performs onstage during the 2016 American Music Awards at Microsoft Theater on November 20, 2016 in Los Angeles, California. Photo courtesy of Getty Images.

Kevin Winter
Ariana Grande performs onstage during the 2016 iHeartRadio Music Festival – night 2 held at T-Mobile Arena on September 24, 2016 in Las Vegas, Nevada. Photo courtesy of Getty Images.

Photo courtesy of Getty Images.
Ariana Grande performs on stage during the "Dangerous Woman" Tour Opener at Talking Stick Resort Arena on February 3, 2017 in Phoenix, Arizona. Photo courtesy of Getty Images.

Kevin Mazur
Ariana Grande performs with Kygo onstage during the 2018 Coachella Valley Music And Arts Festival at the Empire Polo Field on April 20, 2018 in Indio, California. Photo courtesy of Getty Images.

Christopher Polk
Ariana Grande performs onstage during the 2018 iHeartRadio Wango Tango by AT&T at Banc of California Stadium on June 2, 2018 in Los Angeles, California. Photo courtesy of Getty Images.

Rich Polk
Recording artist Ariana Grande performs during the 2018 Billboard Music Awards at MGM Grand Garden Arena on May 20, 2018 in Las Vegas, Nevada. Photo courtesy of Getty Images.

Ethan Miller
Ariana Grande performs onstage at the Q102's Jingle Ball 2014 at Wells Fargo Center on December 10, 2014 in Philadelphia, Pennsylvania. Photo courtesy of Getty Images.

C Flanigan
Recording artist Ariana Grande performs onstage during Z100's Jingle Ball 2016 at Madison Square Garden on December 9, 2016 in New York, New York. Photo courtesy of Getty Images.

Kevin Mazur
Ariana Grande performs onstage during the Sweetener World Tour – Opening Night at Times Union Center on March 18, 2019 in Albany, New York. Photo courtesy of Getty Images.

Kevin Mazur
Recording artist Ariana Grande performs onstage during the 2016 Billboard Music Awards at T-Mobile Arena on May 22, 2016 in Las Vegas, Nevada. Photo courtesy of Getty Images.

Jeff Kravitz/BBMA2016
Musical guest Ariana Grande performs with The Roots on The Tonight Show with Jimmy Fallon on September 8, 2016. Photo courtesy of Getty Images.

NBC
Ariana Grande performs onstage during the 2014 MTV Video Music Awards at The Forum on August 24, 2014 in Inglewood, California. Photo courtesy of Getty Images.

Michael Buckner
Ariana Grande performs during the 2016 MTV Video Music Awards August 28, 2016 at Madison Square Garden in New York. Photo courtesy of Getty Images.

JEWEL SAMAD
Ariana Grande performs onstage during her "Dangerous Woman" tour at Madison Square Garden on February 23, 2017 in New York City. Photo courtesy of Getty Images.

Kevin Mazur
Ariana Grande with host Jimmy Fallon during "Musical Genre Challenge" on May 1, 2018. Photo courtesy of Getty Images.

NBC
Ariana Grande performs onstage during Ariana Grande Sweetener World Tour at Staples Center on May 07, 2019 in Los Angeles, California. Photo courtesy of Getty Images.

Kevin Mazur
Ariana Grande performs at Coachella Stage during the 2019 Coachella Valley Music And Arts Festival on April 21, 2019 in Indio, California. Photo courtesy of Getty Images.

Kevin Mazur
Ariana Grande performs with members of NSYNC Chris Kirkpatrick, Lance Bass, JC Chasez and Joey Fatone on Coachella Stage during the 2019 Coachella Valley Music And Arts Festival on April 14, 2019 in Indio, California. Photo courtesy of Getty Images.

Kevin Mazur