Ariana Grande Is Taking Time to "Heal and Mend" After Mac Miller's Death
She stayed home from the Emmys on Monday night.
---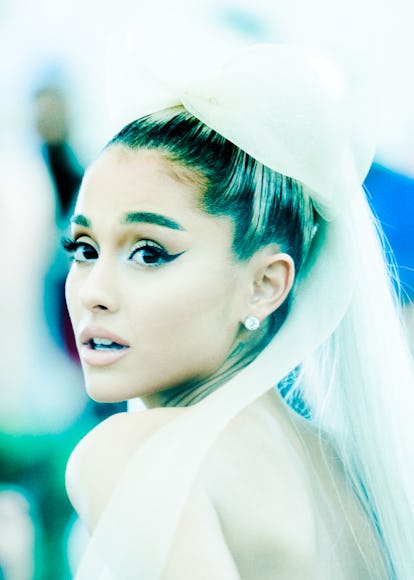 Benedict Evans
You probably won't be seeing Ariana Grande attending events or being especially chatty on social media for a while. On Monday, her team confirmed to People that Grande wouldn't be attending the 2018 Emmys that evening, and that she plans to take some time to herself to prioritize her mental health and well-being.
"Contrary to reports, Ariana will not be attending the Emmys tonight," her rep said, adding that her fiancé, Pete Davidson, whose show Saturday Night Live was nominated for several Emmys, would stay home with her as well. "Pete has also opted to not attend to be with her in New York." They added, "Given the events of the past couple of years, Ariana is going to take some much needed time to heal and mend. She will be staying close to home and using this period to spend time with her loved ones and work on new music without deadline. She thanks her fans for their understanding."
The announcement comes just over a year after the Sweetener singer's concert in Manchester, England, was the site of a deadly terrorist attack, and barely a week after her ex-boyfriend Mac Miller's death by apparent overdose. Since Miller's death, Grande has stayed mostly silent on her previously effusive social media feeds, breaking the silence to post first a captionless photo of the rapper, and then a video of him telling her a story. "i adored you from the day i met you when i was nineteen and i always will. i can't believe you aren't here anymore. i really can't wrap my head around it," she captioned the latter.
Grande has also been open about the PTSD and other mental health issues she's faced since the Manchester bombing. Earlier this month, she candidly discussed the anxiety she was experiencing upon her first trip back to England since the benefit concert she hosted there a few weeks after the bombing. "Sry i'm really really anxious and really exhausted and jus trying to get thru the trip. hope that's ok. hope you enjoy the performances. my priority is giving u the best performances i'm capable of," she tweeted. "i'm like really trying. it's jus been a while since i've done this or been this far away from home. this was a huge test. so far not so great hehe. but i've loved singing for u and seeing ur faces. that part has been nice. thanks for understanding n for loving me."
Related: Mac Miller's Addiction, Not His Breakup, Is Likely to Blame for His Tragic Death