Mac Miller's Addiction, Not His Breakup, Is Likely to Blame for His Tragic Death
As fans attack Ariana Grande, it's important to remember that Mac Miller's struggles with addiction are to blame.
---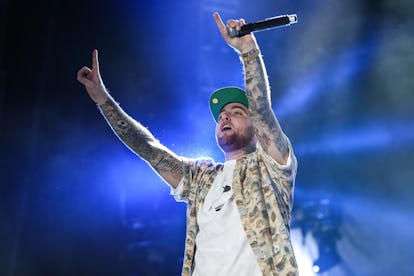 Chelsea Lauren
Mac Miller, the 26-year-old rapper who was found dead today, following an apparent overdose, according to TMZ, had been public about his issues with substance abuse, especially in his lyrics. Though he tried to keep it more private, his two-year relationship with the singer Ariana Grande, which ended this spring, was also public knowledge.
Unfortunately, however, TMZ's original report loosely connected Miller's death to the breakup, and many on social media have placed blame directly on Grande—to the point that the singer or her team have temporarily disabled commenting on her Instagram (several people had rushed to the comments section to attack her).
It's not only a misogynistic line of thought but also a dangerous one to advance as America continues to struggle with an addiction epidemic (especially as it seems widespread among both musicians' young fans).
Miller rarely gave details on his struggles in interviews, but they did predate his relationship with Grande by years. He admitted that he began relying on lean, a drink whose main ingredient is a powerful prescription-grade cough syrup, in his teen years, shortly after the release of his debut album, Blue Slide Parks, in 2011.
"A lot of the reviews were more on me as a person," he told Billboard in 2013. "To be honest, that was even worse. You're 19, you're so excited to put out your first album, you put it out—and no one has any respect for you or for what you did."
"I was not happy and I was on lean very heavy," Miller continued. "I was so f—ed up all the time it was bad. My friends couldn't even look at me the same. I was lost."
Miller says he stopped using lean in 2012, but drug use would continue to be a theme in his music. In May, he was charged with a DUI after wrecking his car.
Grande also once talked about trying to support Miller's sobriety during their relationship. The truth is, though, that loving an addict is hard. No one should connect breakups to continued struggles. Addiction is a difficult, complicated disease, and picking through a person's history or relationship as a way to assign responsibility or blame, especially publicly, only distracts us from what it truly is—a disease, and one that often harms the sufferer's loved ones as well.
However, it should also be noted that Miller blamed his initial reliance on drugs on intense public, media, and Internet criticism of himself as a person. So it seems a misguided, if not cruel, way to remember his legacy by attacking someone else he once loved in a similar manner.
Related: Mac Miller Mourned by Solange, Chance the Rapper, and Other Celebrities