Ariana Grande Breaks Silence on Mac Miller's Death with Instagram Tribute
The rapper passed away last Friday.
---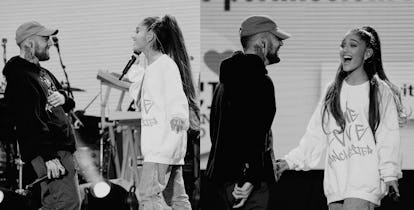 Getty
Ariana Grande has posted a tribute on Instagram to ex-boyfriend Mac Miller, a week following the rapper's death as a result of an "apparent overdose." Alongside a video of the pair spending time together, the singer posted an emotional letter addressed to Miller.
"I adored you from the day i met you when i was nineteen and i always will," she wrote. "I can't believe you aren't here anymore. i really can't wrap my head around it. we talked about this. so many times. i'm so mad, i'm so sad i don't know what to do. you were my dearest friend. for so long. above anything else. i'm so sorry i couldn't fix or take your pain away. i really wanted to. the kindest, sweetest soul with demons he never deserved. i hope you're okay now. rest."
The video shows the pair laughing and hanging out while sharing a late-night meal. Grande can be heard saying, "It makes me happy," before Miller says, "I'll tell this story as many times as you want."
Previously, Grande posted a black-and-white photo of Miller the day after news of his death broke. She didn't include a caption at the time.
The comments section of her Instagram remains disabled due to the amount of vitriol and abuse aimed at her following Miller's death, with some fans incorrectly blaming the singer and their breakup for his reported overdose.
Earlier this week, Miller's friend Shane Powers came to Grande's defense. "He had a lot of good stuff going on," Powers said on his podcast, The Shane Show. "Ariana and him were together, and they were very much in love, and I have to say, she was incredible when he was first sobering up. She was a f*cking G to him. There could not have been anybody more supportive of him being sober than Ariana."
"I saw that, I was around it, I took phone calls from her, 'How do I help? What do I do?' This little girl was unbelievably involved and helpful to him being healthy," Powers continued on his podcast. "Because whether he's an addict or not, the way that Mac partied was not healthy."
"There was no one in his life more ready to go to the wall for him when it came to him being sober," he added. "And she was an unbelievably stabilizing force in his life, and she was deeply helpful and effective in keeping Mac sober and helping him get sober. And she was all about him being healthy, period, in this area of his life."
Related: Mac Miller's Addiction, Not His Breakup, Is Likely to Blame for His Tragic Death