Ariana Grande Was "Unbelievably Involved" in Supporting Mac Miller's Sobriety, Says the Late Artist's Friend
The late artist's friend shares: "She was an unbelievably stabilizing force in his life."
---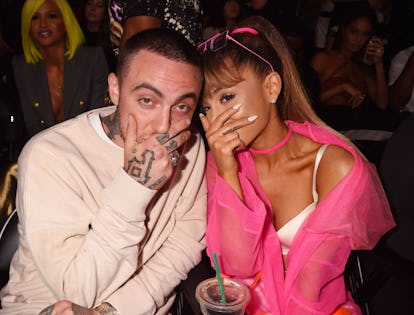 Jeff Kravitz/FilmMagic
When Ariana Grande was wrongly blamed for Mac Miller's DUI this past May, the singer eloquently broke down that offensive and wrongful thinking. "I have cared for him and tried to support his sobriety and prayed for his balance for years (and always will of course)," she wrote in her thoughtful reply. "But shaming/blaming women for a man's inability to keep his sh-t together is a very major problem." Now, in the wake of Mac Miller's death, the late rapper's friend Shane Powers has come to Grande's defense.
Taking to his podcast, The Shane Show, Powers opened up about the pair's nearly two-year relationship. "He had a lot of good stuff going on," Powers said. "Ariana and him were together, and they were very much in love, and I have to say, she was incredible when he was first sobering up. She was a f–king G to him. There could not have been anybody more supportive of him being sober than Ariana."
Powers detailed all of the ways in which Grande supported Miller's sobriety, saying, "I saw that, I was around it, I took phone calls from her, 'How do I help? What do I do?' This little girl was unbelievably involved and helpful to him being healthy. Because whether he's an addict or not, the way that Mac partied was not healthy."
"There was no one in his life more ready to go to the wall for him when it came to him being sober," he added. "And she was an unbelievably stabilizing force in his life, and she was deeply helpful and effective in keeping Mac sober and helping him get sober. And she was all about him being healthy, period, in this area of his life."
Grande has not issued a statement about Miller's death; instead, she shared an uncaptioned photo of him on Instagram. Not that she's obliged to comment in any way, of course. The only person who should be commenting on how Grande mourns and grieves Miller is Grande. Still, that hasn't stopped at least once source close to her from speaking to People.
Related: Mac Miller's Addiction, Not His Breakup, Is Likely to Blame for His Tragic Death