Ariana Grande Defends Breakup With Mac Miller: "Of Course I Didn't Share About How Hard or Scary It Was"
The relationship was apparently "toxic," "hard," and "scary."
---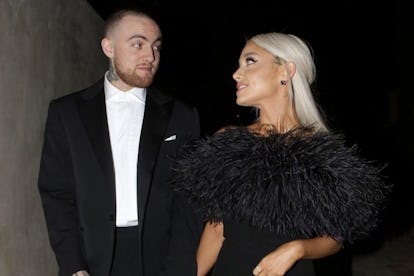 GC Images/Getty Images
The drama between Ariana Grande and now ex-boyfriend Mac Miller is in full swing. Just days after news that the 24-year-old singer had split from the 26-year-old rapper, Grande is clapping back at Twitter users who are romanticizing her former relationship.
If, perhaps, you need a recap of the increasingly public drama: Earlier this month, Miller and Grande announced their relationship had ended after nearly two years, citing conflicting work schedules. Then, last week, Miller was reportedly arrested for a DUI after he allegedly crashed his truck into an electrical pole and was found to have a blood alcohol content of twice the legal limit, according to Page Six.
After news of Miller's car wreck became public, one Twitter user's comments caught Grande's eye. The user in question wrote, "Mac Miller totalling his G wagon and getting a DUI after Ariana Grande dumped him for another dude after he poured his heart out on a ten song album to her called the divine feminine is just the most heartbreaking thing happening in Hollywood." Grande responded directly to the tweet, revealing emotional details about her past relationship. "How absurd that you minimize female self-respect and self-worth by saying someone should stay in a toxic relationship because he wrote an album about them," she wrote in a screenshot from the Notes app on her phone. (Grande also clarified that the entire album was not written about her, just one song.)
"I am not a babysitter or a mother and no woman should feel that they need to be. I have cared from him and tried to support his sobriety & prayed for his balance for years (and always will of course) but shaming/blaming women for a man's inability to keep his shit together is a very major problem [sic]," she continued. "Of course I didn't share about how hard or scary it was while it was happening but it was. I will continue to pray from the bottom of my heart that he figures it all out and that any other woman in this position does as well," she finished the statement, punctuating it with a heart.
The Twitter user responded to Grande's tweet with his own Notes-app screenshot, apologizing and saying he truly hopes Ariana and Mac "get back to living [their] best lives as soon as possible." For her part, Grande appreciated the sentiment. "thank you for hearing me, i appreciate your response v much. ☁️ sending u love [sic]," she replied.
Meanwhile, it seems Grande has already moved on from her relationship with Miller. She's now reportedly dating Pete Davidson, and the two even got what appear to be matching tattoos just days into their budding romance. As for Miller, he's set to appear in court on June 7.
Read Ariana's full statement, below.
Related: All of Ariana Grande's Eerily Accurate Impressions, Ranked