Ariana Grande and Pete Davidson Appear to Have Gotten Matching Tattoos Already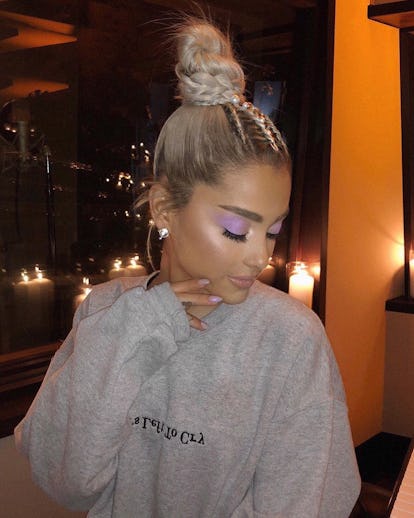 @patrickta
Mere days after reports surfaced that Ariana Grande and Pete Davidson are casually dating, a few eagle-eyed fans have spotted what they believe is further proof that the pair's reported relationship is indeed blossoming. Per Cosmopolitan, Grande and Davidson appear to have already gotten matching tattoos. One fan posted a side-by-side comparison on Twitter that shows a teeny fluffy cloud inked on the middle finger of Grande's left hand, and the same doodle in the same position on Davidson's left hand.
It's unclear when exactly Grande and Davidson made their way to a tattoo parlor to make their relationship (however casual and, for the record, still unconfirmed) more permanent. But last week, the "No Tears Left to Cry" singer captioned a Boomerang of her riding in a car through New York City with only the cloud emoji, which looks a lot like her and Pete's new ink. Just three days later, the Saturday Night Live star uploaded a photo of himself in which his own cloud tat is clearly visible.
Grande's fans—and especially those still hoping for her to reunite with ex Mac Miller—were caught completely off guard by the purported matching tattoos. "Just because Ariana and Pete have the same tattoo doesn't mean they're dating…." one person tweeted, which is entirely correct. That same tweeter went on to add, "OK maybe I'm being delusional but I just don't want to believe Ariana moved on that fast," a sentiment that was shared by several other fans.
News of Grande and Davidson's alleged relationship broke earlier this week, with anonymous sources "confirming" the reports to multiple outlets. "Ariana and Pete are dating and it's casual. It just started," a source told Us Weekly, adding that the duo hung out at an SNL afterparty earlier this month, as well as backstage at the Billboard Music Awards this past weekend, where Grande performed. "After Ariana's performance, they were backstage and he had his arm around her," an eyewitness told People. "They seemed very lovey-dovey. He was hanging out with her and her friends with his arm around her. She seemed quite smitten." That said, neither Grande nor Davidson has confirmed the rumors yet.