Paris Jackson and Macaulay Culkin Hit the Tattoo Parlor, Emerge with Matching Spoons
Just a cute godfather-goddaughter date.
---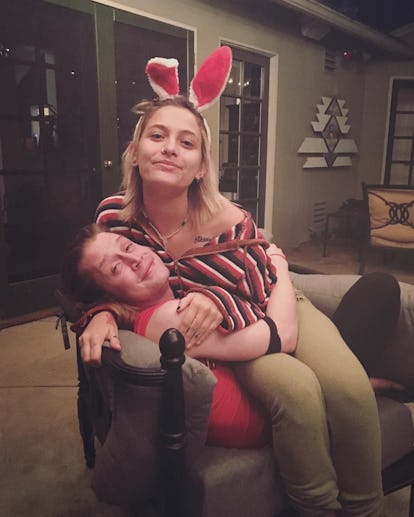 @parisjackson
Paris Jackson and her godfather, former Home Alone actor Macaulay Culkin, seem to have a lot of fun together. She gives him pedicures; they hang out over the holidays; they draw each other masterpieces; and, apparently, they even hit the tattoo parlor together.
Jackson, 19, and Culkin, 36, were spotted at West Hollywood's Tattoo Mania parlor Saturday; they emerged, freshly inked, Jackson adding to her already impressive spread of tattoos with a tiny spoon on her left forearm. (Just a month ago, Jackson also got a foot tattoo, which read "Applehead" in swirling cursive, a tribute to her father.) Culkin matched her spoon with the same illustration on his right, the mirror image. Jackson later posted an image of herself posing with Culkin, showing off their new ink, to her Instagram stories over the weekend.
Entertainment Weekly wrote, reporting on the new tattoos, that spoons are frequently representative of a chronic struggle (likely referring to the Spoon Theory of chronic illness)—and there's no denying both Jackson and Culkin have confronted. (They also share a history childhoods spent in the limelight.) Then again, spoons can mean a whole lot of things. You use them to eat your cereal; a silver spoon is also a metaphor for privilege.
Culkin, Jackson's godfather, became friends with her late father when he starred in the video for Michael Jackson's "Black or White"; in the past year, he's been spotted numerous times with his goddaughter, a rising model and, apparently, also a burgeoning nail artist. (Elsewhere, he popped up in Adam Green's Aladdin with Natasha Lyonne and Father John Misty's "Total Entertainment Forever" video, adding to his eclectic resume that includes his gig as the frontman for the pizza-themed Velvet Underground cover band The Pizza Underground.)
Culkin doesn't have Instagram—but he can leave it to Jackson to document their travails, and their shared ink.
A Guide to All Your Favorite Models's Tattoos, from Paris Jackson's New Ink to Kate Moss's £1 Million Tramp Stamp
Watch: Martha Stewart Recalls Her Most Treasured Birthday