Luka Sabbat's Hot Mess, His First "Not Fashion" Creative Project
The 19-year-old model and It kid Luka Sabbat is working with emerging photographer Noah Dillon on Hot Mess, a multimedia week-long installation at Milk Studios during New York Fashion Week.
---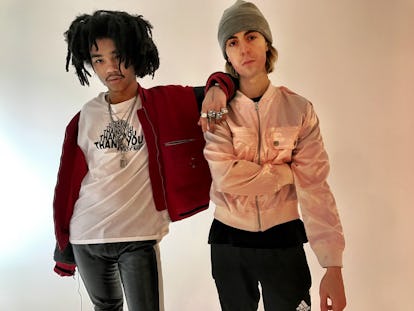 Luka Sabbat loves the name of his new creative project, Hot Mess, so much that he's tattooed it on his chest.
The tattoo first came in 2015, when Sabbat originally thought of the idea, and now it's finally coming into fruition. Starting on Wednesday night with a VIP opening at Milk Studios in New York City, the 19-year-old model and so-called influencer will debut his first creative project with the emerging photographer Noah Dillon. Also on display will be a shimmering pink book featuring Virgil Abloh's Off-White women's wear looks, which the duo shot and styled as well. Plus, Sabbat will debut his first capsule collection under the Hot Mess brand umbrella. Finally, to celebrate, they're throwing a "rager" in the basement on Friday night. And if you need to find them at any point in-between, they'll be sleeping in the studio on air mattresses.
"We're literally taking residence in Milk," said Dillon on Tuesday afternoon.
"Stay tuned for new content every day," added Sabbat. (A phrase he should also get tattooed on his chest.) Being a proud "hot mess" himself, Sabbat was sick hours before the big day, and sat slumped on a couch in one of his new custom shirts. Dillon on the other hand, who is 23 and hails from Durango, Colorado, wore cowboy boots paired with Adidas track pants. The two met on Twitter two years ago, when Sabbat came across Dillon's photographs and DM'ed him about collaborating on project in Los Angeles, which would eventually become their new multimedia exhibition.
"It's so insane that a Twitter DM led us to Milk Gallery," said Dillon clutching his head in disbelief.
"The internet is everything," echoed Sabbat. (Another strong tattoo contender.)
Since Sabbat first made a dent on the scene back in 2015, he has accumulated well over 300,000 followers on Instagram and 100,000 on Twitter. He was most recently spotted front row at the Raf Simons show during New York Men's Week and Virgil Abloh name-dropped him numerous times at his Columbia lecture on Monday night. (Sabbat declined to comment on Abloh's rumored Givenchy appointment.) However, despite his following and fashion connections, Sabbat has actually taken his time when it comes to releasing his own work, and unbelievably, this will be his first major drop.
"I wanted to release after the first shoot in 2015," said Sabbat. "But my dad told me to wait." A Haitian designer in his own right, his dad, Clark Sabbat, was also at Milk Studios that day wearing an Alexander Wang sweater, Marc Jacobs jeans, and Maison Margiela sneakers.
Despite kicking off during New York Fashion Week, Sabbat underlined that Hot Mess is decidedly "not fashion." He and Dillon tossed all the shots that looked like editorials, cast unknown models from Instagram, and styled them using vintage pieces. In light of all this, Sabbat will also not be following his normal fashion week schedule. "I only care about Raf at Calvin Klein," he said. "I'm not going to any other show. I've been working on my s–t for way too long to go to anyone else's stuff. I gotta support myself."
Hot Mess purports to be anti-establishment and anti-fashion, yet simultaneously not political and not a "Gagosian-type" gallery show, according to the duo. "The concept has stayed the same since the beginning," said Dillon. "Hot mess female models dealing with real problems. It's relatable. These are normal girl 'fits."
"I just feel like nothing concentrates on girls and their scenes," added Sabbat of the original impetus behind his concept two years ago. "It's just a bunch of dudes launching brands for other dudes. I also just feel like photographing women is cooler than photographing men. Name anything you want to do with a guy, and you can do it with a girl and it will look cooler."
"That's a fact," Dillon added with a nod.
Alright, then if Hot Mess isn't a fashion show, isn't political, and isn't an art show—what is it?
"It's our own little DONDA," said Dillon, referring to Kanye West's top-secret creative content company, the one that he said would "pick up where Steve Jobs left off."
For now, Hot Mess is still exactly what the name implies. You can pre-order the capsule collection "by appointment or if I know you're legit," said Sabbat. And judging by the one shirt he was wearing, which was a re-purposed Champion tee printed with various different iconic fonts, it's all Vetements meets Off-White meets social media savvy teenager—and will no doubt sell out in minutes. As for the art, the images are all for sale and are accompanied by poems. "We're also coding this VR thing," said Dillon. And there will be "random performance art" in the studio all week.
In sum, Sabbat and Dillon are doing whatever they want, which, whether they like it or not, is so very in fashion.
"My parent's still low-key don't understand this," said Dillon before getting back to work.
See W's most popular videos below: