Ariana Grande Shared How to Find the Perfect Engagement Ring: 'Don't'
The pop star has been on a roll lately.
---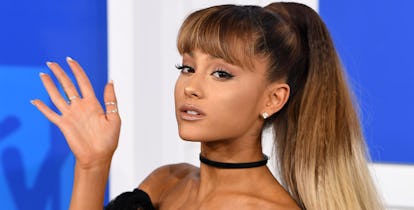 C Flanigan
In just five months, Ariana Grande has gone from a love guru to a scorched-earth breakup role model. Ever since she and Pete Davidson called off their engagement, much to their families' relief, she has been publicly mourning her breakup and becoming all the more relatable in the process.
Her latest commentary? Grande offered her opinion on how to find the perfect engagement ring. When @thezoereport shared a photo of rings with a caption about "tips & tricks" to find your own, Grande commented, simply, "don't." In that moment, Grande delivered a better joke than her professional comedian ex has all fall long.
Davidson's attempt to joke about their breakup fell flat when he told a crowd at a comedy benefit, "Well, as you can tell, I don't want to be here. There's a lot going on. Anybody have any open rooms? Anybody looking for a roommate?" Davidson's other joke about their ended engagement, where he spontaneously proposed to SNL musical guest Maggie Rogers, was even less amusing.
Grande ended up getting the punchline though when she subtweeted him with, "For somebody who claims to hate relevancy u sure love clinging to it huh."
Grande has since doled out other jokes on Twitter like,"Remember when i was like hey i have no tears left to cry and the universe was like HAAAAAAAAA b-tch you thought," she tweeted, referring to her song "No Tears Left To Cry."
The day before when a fan tweeted, "Ariana Grande is like one song away from making girls never talk to guys ever again," Grande shared it and replied, "thank god."
She has also been earnestly mourning her breakup, though, as she did when she shared an endorsement for therapy. After a fan tweeted, "who is Ariana's therapist and are they accepting new clients," Grande replied, "lmaoaoo this is funny as f-ck but in all honesty therapy has saved my life so many times. If you're afraid to ask for help, don't be. You don't have to be in constant pain & you can process trauma. I've got a lot of work to do but it's a start to even be aware that it's possible.?"
If Grande ever wanted to take a break from music, she could make a killing as a life coach.