Pete Davidson Is Speaking Out About His Breakup With Ariana Grande
Pete Davidson finally spoke out about calling off his engagement to Ariana Grande.
---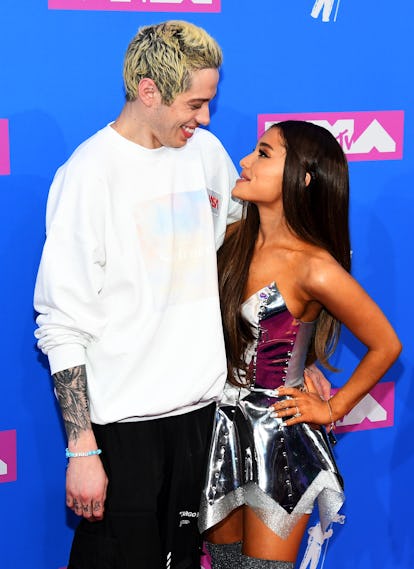 Nicholas Hunt/Getty Images
We officially have the answer to the question of whether or not Pete Davidson still lives with Ariana Grande in her $16 million New York City apartment. Both sides of a breakup must always be addressed eventually, and while the pop superstar has already indirectly said what she needed to say about her separation from her fiancé, it is now his turn to talk about it.
Just a few days after Grande and Davidson's reported breakup, an explanation for calling off their engagement was revealed by a source at People. "She realized that planning a wedding right now felt very rushed," according to the source. "It's not what she wants to do right now. She doesn't want to make any rushed decisions and has decided to take a step back instead."
Grande herself took a few days to show up in public after rumors of the breakup started swirling, but the performer used her big public appearance last week as an opportunity to perform for Wicked's 15th-anniversary concert, which will air on NBC. The performer notably was not wearing her $93,000 engagement ring during the performance, and continues to post photos and videos of the pet pig she adopted with Davidson last month, with Davidson nowhere to be seen in any of the social media content posted by Grande (a stark contrast from her Instagram Stories and tweets just a month ago). That sort of chess move on Grande's part may not be a direct comment from the singer on the breakup, but it says it all—she is handling things at her own pace.
Now, Davidson himself has tossed his hat in the ring when it comes to addressing the rumors of his high-profile relationship. This season on Saturday Night Live, the comedian appeared on "Weekend Update" to joke about his relationship with Grande, making quick quips about whether or not he and the singer would break up. Just two weeks later, they did.
Per The Hollywood Reporter, after reportedly canceling an appearance at Temple University in Philadelphia, Davidson made good on his promise to perform in Los Angeles at "Judd & Pete for America—A Benefit to Swing Left," a comedy benefit performance hosted by Judd Apatow, who opened the show followed by Tig Notaro. When Davidson took the stage, he dove headfirst into the rumors, addressing his breakup almost right away with a joke. "Well, as you can tell, I don't want to be here," he told over 200 people in the crowd. "There's a lot going on," he continued, before asking, "Anybody have any open rooms? Anybody looking for a roommate?"
Of course, it makes sense that a comedian would address his breakup from one of the biggest pop stars with a quick joke at a comedy show, and a global superstar would address her split by just singing it out, but we all handle breakups in different ways.
Related: Post–Pete Davidson Ariana Grande Is Back in the Public Eye, Only to "Say Bye Bye" to the Internet