Go Inside Ariana Grande and Pete Davidson's New Zaha Hadid-Designed Apartment
Ariana Grande and Pete Davidson reportedly moved into a $16 million luxury apartment designed by Zaha Hadid in Chelsea.
---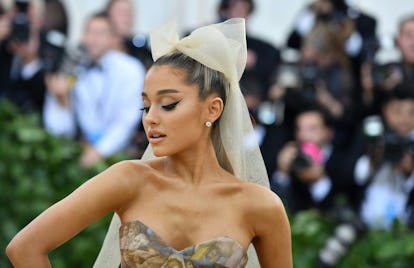 ANGELA WEISS/AFP/Getty Images
The Ariana Grande and Pete Davidson relationship timeline has moved fast enough to give even their biggest fans whiplash. There's no use in telling the two to slow things down because within a matter of weeks, the couple announced that they were dating, engaged in some over-the-top couple behavior on social media, and then announced that they are engaged to be married. Now, Grande has packed up her life in California and moved into a new apartment with Davidson in New York.
The curved apartment building, designed by the late architect Zaha Hadid, is located in Chelsea, and the couple's unit cost a reported $16 million. Given that hefty price tag, it would make sense that the amenities of the apartment are of the luxurious variety. Not only does Grande and Davidson's 4,000-square-foot interior include five bedrooms and four and a half bathrooms, but the apartment complex also reportedly features a large gym and a skylit pool that ranges 75 feet, according to TMZ.
The building also has its very own private IMAX theater, so the couple will never have to worry about going out to the movies and running into any fans, and an unobstructed view of the High Line and Empire State Building, which will give them a nice view of Davidson's office at 30 Rock all the way from across town. Oh, and apparently Sting lives there too, in case Grande wants to give that "Wheel of Musical Impressions" a whirl to his face.
The singer's new album, Sweetener, is expected to be released on August 17—about a month before the expected season 44 return of Saturday Night Live. With a new album comes the inevitable album promotional cycle, a tour, and plenty of international travel; with a new season of SNL comes nine months of intense work weeks with plenty of late nights—and neither of those work commitments have good track records for relationships. But just the other day, Grande and Davidson were spotted on a mundane date that involved playing around in a furniture store as they went shopping to fill out their sprawling new place, proving that there's no one else who can live in the now and let the future come at its own pace like these two.
Related: Ariana Grande and Pete Davidson: A Quick Timeline of Their Relationship