Ariana Grande and Pete Davidson: A Quick Timeline of Their Relationship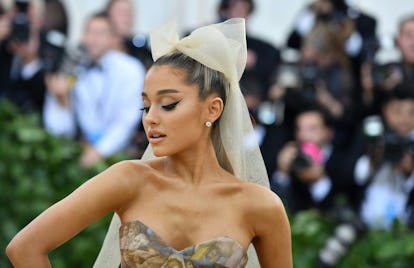 ANGELA WEISS/AFP/Getty Images
Ariana Grande's new relationship is moving faster than her latest album rollout. According to multiple celebrity outlets, Grande and Saturday Night Live cast member Pete Davidson are engaged, and were openly sharing the news this weekend at Robert Pattinson's birthday party in Los Angeles. Here, a quick timeline of their relationship.
March 12, 2016: Grande Hosts Saturday Night Live
Though it would be more than two years before they started dating, the week leading up to the show appears to have been the first time the pair met. Davidson even popped up at the end of Grande's monologue asking if her if she wanted to go smoke some weed. A lot has happened to both since then. Notably, Davidson went to rehab and no longer smokes marijuana.
April 20th, 2017: Grande Releases "No Tears Left to Cry"
May 9th: Reports surface that Grande broke up with former boyfriend Mac Miller
Grande and Miller first collaborated on the single "The Way" back in 2013, but despite a pretty lusty kiss in the video, the pair didn't start dating until August 2016 and mostly kept that relationship publicly low-key throughout.
May 18th: People first reports that the pair are dating.
May 23rd: Grande publicly comments on her breakup as reports that she's dating Davidson began to surface.
Miller was arrested for a DUI earlier in the month, and when a Twitter troll connected the incident to the breakup, Grande clapped back. "How absurd that you minimize female self-respect and self-worth by saying someone should stay in a toxic relationship because he wrote an album about them," she wrote. "I am not a babysitter or a mother and no woman should feel that they need to be."
Also May 23rd: The internet notices the pair may already have matching tattoos.
May 24th: Davidson comments on Grande's Instagram.
Grande posted an image of a new Bee tattoo on her Insta, and Davidson responded with emojis.
May 28th: Grande posts Davidson's arm on her Instagram stories.
The pair were roasting marshmallows together over Memorial Day weekend.
May 30th: The relationship makes it to Davidson's Instagram grid.
They're both 24 and they're both Harry Potter nerds.
May 31st: Grande makes it even more official on her grid.
Early June: The pair's constant social media flirtation pretty much eats up all of our timelines.
Today: We learn they're engaged? Grande maybe confirms the news on Twitter.
August: Grande will release her album, Sweetener.
To put it in perspective, she apparently wasn't even dating Davidson yet when she released the album's first single.
???: The Wedding?
Luckily, Us reports that the pair are not rushing down the aisle and plan to have a long and leisurely engagement period. Its understandable considering, you know, Grande has an album to put out.
Related: All of Ariana Grande's Eerily Accurate Impressions, Ranked