Allow Kendall Jenner and Ben Simmons to Demonstrate that Mundanity Is the New Romance
"Running errands" is the new "going on dates," apparently.
---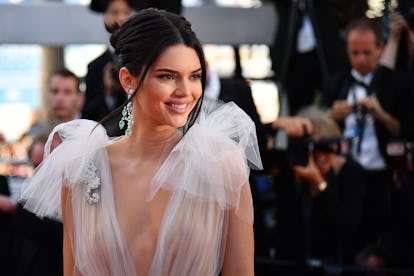 ALBERTO PIZZOLI/Getty Images
Kendall Jenner has reportedly made things official with her new boyfriend, Philadelphia 76ers player Ben Simmons, who recently took the supermodel out on what most people would call "errands," but sources at Page Six are referring to as a date.
Forget mailing letters at the post office, taking pets to the vet, picking up clothes from the dry cleaners, or even grocery-shopping at just any regular supermarket—on Sunday afternoon, Simmons took Jenner to a luxury health food store called Erewhon Market in Los Angeles.
At this point, the only thing more official than a supermarket date with Jenner would be a homemade meal prepared by her chef of a sister and served up on a platter for her in the comfort of her own home. But the two were reportedly spotted checking out the prepared foods aisle, so the couple likely just tossed some things into the microwave and called it a day. It's practical, it's efficient, it's grown-up—and apparently it's romantic, too.
Going grocery-shopping with her man is admittedly a step up from the post-CFDA Awards makeout date between Jenner and Anwar Hadid (the younger brother of her close friends, Gigi and Bella Hadid), but having your significant other tag along while you run your errands counts as an official date now, and not just for celebrities like Jenner and Simmons.
At least their outing could be considered more of an adult activity than goofing off in a furniture store, like the newly engaged Ariana Grande and Pete Davidson, who recently went shopping for rugs in New York City as Grande, of course, documented the excursion on Instagram Stories. Davidson lifted up his shirt while a friend of Grande's hid in between the rug panels on display, which is exactly the type of mature behavior to engage in when shopping for a new home together.
Related: See 16 of Kendall Jenner's Best Hair and Beauty Moments