Kendall Jenner and Anwar Hadid Spark Romance Rumors While Bella Hadid and the Weeknd Flaunt Their Relationship
Kendall Jenner was photographed making out with Anwar Hadid on the heels of Bella and the Weeknd's reunion.
---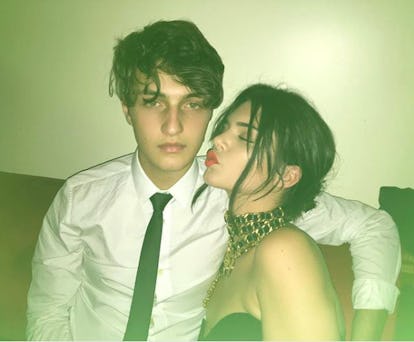 instagram.com/kendalljenner
While it's the Kardashians that America most often struggles to keep up with, the Hadids are just as hard to keep tabs on. In this case, the two intersect, as Kendall Jenner was photographed in an eyebrow-raising position with Anwar Hadid, the 18-year-old brother of Gigi and Bella Hadid.
The grainy photo, obtained by TMZ, allegedly depicts the model straddling her childhood friends' brother while kissing him at a CFDA Awards after-party in NYC. While it's impossible to know for sure if the two parties are indeed Jenner and Hadid, their attire and hairstyles (the most-telling details you can make out from the photo) do line up with individual photos of them from the same night. In the picture of Jenner possibly locking lips with Hadid, the woman wears a white shirt with black shorts and black boots — the same combination Jenner slipped into after changing out of her feathery, lavender Alexandre Vauthier Couture dress. Equally incriminating is the glimpse of Hadid's unmistakable bleached hair.
While there's nothing inherently scandalous about hooking up with your best friend's brother, the wildest thing of all about this alleged photo of Jenner and Hadid is how open she is about PDA. Unlike her sisters, Jenner is notoriously private about her love life and even more shy about PDA, as TMZ notes. "I think it's because I'm not like all my other sisters, who are like, 'Here's me and my boyfriend!,'" as she recently explained to Vogue while discussing rumors about her sexuality. "So it was a thing for a minute because no one ever saw me with a guy. I would always go that extra mile to be low-key with guys, sneaking around all the time. You don't want to, like, look crazy."
Interestingly, there's also the fact that Jenner was just romantically linked to Philadelphia 76ers player Ben Simmons mere days ago, who have been allegedly seeing each other "for a few weeks."
This isn't the first time Jenner has cozied up to Hadid in a photo. Back in October of 2016, she curiously posted a photo of herself making a kissing face at Hadid with the caption "dibs?"
Anwar isn't the only Hadid whose love life is the subject of much speculation and ambiguity at the moment. Just a few days ago Bella was photographed flaunting her potentially on-again relationship with the Weeknd in Paris, where the two walked down the street together as musician Abel Tesfaye had his arm around her. Meanwhile, no one really knows what exactly is the current relationship status of Gigi and Zayn Malik, which seems far from over despite their breakup announcement this past March. The only thing about any of this that feels safe to assume is momagers Kris Jenner and Yolanda Hadid have even more to talk about than they normally would.