Kendall Jenner Addressed Her Sexuality and Relationship with Blake Griffin
"It was a thing for a minute because no one ever saw me with a guy."
---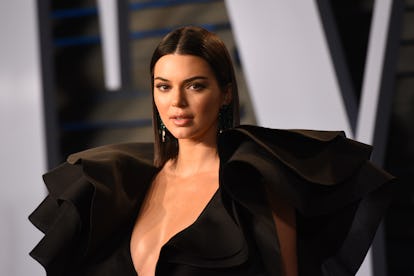 Presley Ann/Patrick McMullan via Getty Images
It's hard to believe that any major Kardashian-Jenner news wouldn't come from their reality show itself but that precedent was just broken by Kendall Jenner. The reality TV star–turned–professional model took on one rumor that has yet to come up on Keeping Up With the Kardashians in a new cover story with Vogue. Specifically, Jenner addressed gossip that she is gay, or bisexual, while talking about her relationship with Detroit Pistons forward Blake Griffin.
According to Jenner, the rumors that she isn't straight began circulating due to her single status. "I think it's because I'm not like all my other sisters, who are like, 'Here's me and my boyfriend!'" she says, suggesting an explanation. "So it was a thing for a minute because no one ever saw me with a guy. I would always go that extra mile to be low-key with guys, sneaking around all the time. You don't want to, like, look crazy."
While Jenner says point blank, "I don't think I have a bisexual or gay bone in my body," she isn't ruling out future experiences that involve the same gender. "Who knows?!" she says. "I'm all down for experience—not against it whatsoever— but I've never been there before."
As for her relationship with Griffin, Jenner declined to confirm their status, though she did mention that she was visiting "a friend." "I like my private life," she says. "Yeah… no. I'm happy. He's very nice. I have someone being very nice to me."
Jenner also spoke about her own gender identity, which she described as having a "male energy." "I don't want to say that wrong, because I'm not transgender or anything," she says. "But I have a tough energy. I move differently. But to answer your question: I'm not gay. I have literally nothing to hide. I would never hide something like that."
Outside of one appearance at this past New York Fashion Week, Jenner has been keeping a low profile lately. That may be due in part to her anxiety, which was recently addressed on KUWTK. "Kendall has anxiety, and I think she has so much going on that she gets herself really worked up," her mom, Kris, says in a recent episode. "Kendall gets the most anxious during Fashion Week, so when she's traveling a lot and Milan's coming up and trying to juggle it all, [it's] overwhelming."