Kendall Jenner and Blake Griffin Reportedly Were "Never Serious"
Things, it would appear, have "slowed down."
---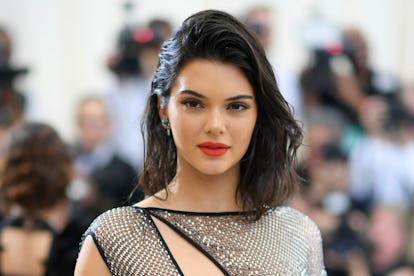 Dimitrios Kambouris/Getty Images
It would appear as though the blooming romance between Kendall Jenner and Blake Griffin has been nipped in the bud. As of Tuesday, per E! News, the quasi-coupling that may or may not have existed between the Kardashian family member and NBA player is no more. Or at the very least, things have "slowed down" considerably—things that were apparently "never serious" in the first place, if an insider is to be believed.
"They were hanging out but both knew that it wasn't going to be a long-term, exclusive relationship," the insider told E! "They are still in contact and hangout here and there when they are both in town because they truly have a lot of fun together. Kendall always says that Blake makes her laugh and that's why she loves being around him."
Said insider is reportedly not the only one who can confirm the "slowing down" of things. Another source told E! News that indeed, things were not serious, and that the frequent hangouts have lessened in the past month, but added that this wasn't due to any major event. "There was nothing that caused this specifically and they will always be friends," the source continued, adding that Jenner "has a lot on her plate and isn't really looking for a serious relationship."
Jenner and Griffin were previously seen canoodling at Universal Studios's Halloween Horror Nights in October. Also seen canoodling were rumored parents-to-be Kylie Jenner and Travis Scott, who were there in attendance on a double-date. Prior to that, Jenner and Griffin were spotted on another double hang-out in August, during which, it was said, Jenner was less than enthused about Griffin's affections. As this chapter of Kardashian-Jenner life comes to a close, we can go back to focusing on the A plot, aka Kylie Jenner's maybe pregnancy.
Related: Kendall Jenner Will Never Have Her Own Spinoff, According to Kris
Kendall Jenner, Emily Ratajkowski, Slick Woods and Their Friends Make Wearing Couture Look Easy
From left: Maison Margiela Artisanal Designed by John Galliano dress, parka, and underpinning. Maison Margiela Artisanal Designed by John Galliano bustier and dress.

Photographs by Alasdair McLellan; Styled by Katie Grand
From left: Adidas Originals jumpsuit and shoes; Tommy Jeans sweatshirt and pants; Converse shoes. Atelier Versace dress. Atelier Versace dress; Converse shoes. Atelier Versace dress; Versace hat; Manolo Blahnik shoes. Gurls Talk sweatshirt; Palace jeans and boots.

Photographs by Alasdair McLellan; Styled by Katie Grand
From left: Fendi Haute Fourrure dress. Tommy Jeans sweater. Vintage sweatshirt from Blitz, London. Beauty note: Give hair some flip with Playa Endless Summer Spray.

Photographs by Alasdair McLellan; Styled by Katie Grand
Ronald van der Kemp clothes, accessories, and shoes.

Photographs by Alasdair McLellan; Styled by Katie Grand
Photographs by Alasdair McLellan; Styled by Katie Grand
From left: Viktor & Rolf Haute Couture dress and headpiece. Vintage sweatshirt and pants from Blitz, London.

Photographs by Alasdair McLellan; Styled by Katie Grand
Chanel Haute Couture dress and hat; Chanel bag; Manolo Blahnik shoes. Chanel Haute Couture dress, hat, earrings, and bracelets; Chanel bag. Chanel Haute Couture dress, pants, hat, and earrings; Chanel bag; Manolo Blahnik shoes.

Photographs by Alasdair McLellan; Styled by Katie Grand
Photographs by Alasdair McLellan; Styled by Katie Grand
Photographs by Alasdair McLellan; Styled by Katie Grand
From right: Alexis Mabille dresses. Adidas Originals jumpsuit.

Photographs by Alasdair McLellan; Styled by Katie Grand
Photographs by Alasdair McLellan; Styled by Katie Grand
Giambattista Valli Haute Couture dresses.

Photographs by Alasdair McLellan; Styled by Katie Grand
From left: Azzedine Alaïa coat, pants, and shoes. Topman sweatshirt; Tommy Jeans pants; Converse shoes.

Photographs by Alasdair McLellan; Styled by Katie Grand
Alexandre Vauthier dress.

Photographs by Alasdair McLellan; Styled by Katie Grand
From right: Dior Haute Couture dress and shoes. Dior Haute Couture dress and sandals. Miu Miu shoes; model's own clothes.

Photographs by Alasdair McLellan; Styled by Katie Grand
Photographs by Alasdair McLellan; Styled by Katie Grand
Philip Treacy London hat.

Photographs by Alasdair McLellan; Styled by Katie Grand; Hair by Orlando Pita for Orlando Pita Play at Calliste Agency; makeup by Diane Kendal for Marc Jacobs Beauty at Julian Watson Agency; manicure by Chisato Yamamoto for Morgan Taylor at David Artists. Produced by Ragi Dholakia; Production Managers: Claire Huish, Vinita Dave; Retouching by Output. Models: Slick Woods, Adwoa Aboah, Daisy Cvitkovic at the Lions; Ben Sherrell at Supa Model Management; Lily Nova, Faith Lynch, Dylan Hughes, Bradley at IMG Models; Hanna Halvorsen at Exclusive Management; Kendall Jenner at The Society Management; Leonard Mushiete at Rebel Management; Tommy Genesis at Eqt Management; Cara Taylor at Silent Models NY; Emily Ratajkowski at DNA Model Management; Estelle Yves at Women Management Paris; Sharas Kalytis at Elite London. Photography Assistants: Lex Kembery, Matthew Healy, Simon Mackinlay, Peter Smith; Stylist Assistants: Lynette Garland, Oliver Volquardsen