Kendall Jenner Was Interviewed By BFF Cara Delevingne About Children and Social Media
She has a plan to protect her future young.
---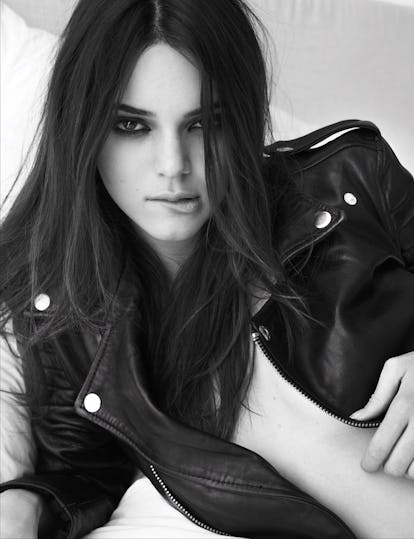 Mert Alas and Marcus Piggott, styled by Edward Enninful.
Considering that two, if not three, of her sisters are pregnant at the moment, babies are naturally on the mind of Kendall Jenner. At least that was the case when she was interviewed by her BFF Cara Delevingne for Harper's Bazaar. When the model-turned-actress asked Jenner whether or not she would let her children pursue a career in fashion and have access to social media, the 22-year-old reality TV star revealed that she has already figured out how she would approach both.
"I think I'll definitely put an age limit on it and try to keep them away from it as much as possible," said Jenner, who herself didn't fully enter the spotlight until she was 12 on Keeping Up With the Kardashians. "I always loved being able to play in my yard with my animals, and my dog, and my friends. It's going to be interesting to see what the world is like when I do have kids. But I definitely don't plan on having them anytime soon."
One of the reasons that Jenner revealed she's waiting to have kids is that, like many others, she's hesitant to bring them into this world. "It's super scary," she tells Delevingne. "It's funny you ask that because I have such debilitating anxiety because of everything going on that I literally wake up in the middle of the night with full-on panic attacks. Where do I even start? Everything is so horrible, it's hard to name one thing. I just think that the world needs so much love. I wish I had the power to send Cupid around the planet, as cheesy as that sounds. You go online and you see everyone saying the worst things to each other, and it's hard to stay positive. It's hard not to get eaten alive by all the negativity."
Part of how she manages to do that is by unplugging. "Lately I've just tried to stay off it [social media], and I definitely don't look at comments," Jenner says. "I think Instagram is still a fun place for the most part. I like going on and seeing what people are up to, but I mostly follow stupid accounts with pictures of puppies and little baby animals and people saving animals. Forget about Twitter, which is so not fun these days. It just makes me sad."