Kendall Jenner Will Never Have Her Own Spinoff, According to Kris
She's too busy with fashion to bother with TV.
---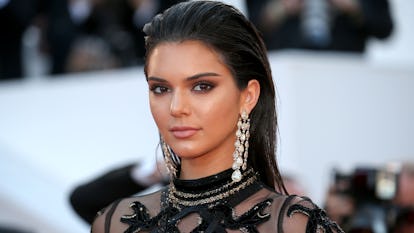 Gisela Schober/Getty Images
At this point, each and every one of Kris Jenner's children have taken part in their own Keeping Up With The Kardashian spinoff save for, of course, Kendall Jenner.
The original Kim, Khloe and Kourtney trio have splintered off in various incarnations to "take" several east coast cities. Khloe later had a show with ex-husband Lamar Odom, and has also hosted Kocktails with Khloe and Revenge Body. Kylie just concluded her first spinoff foray with Life of Kylie. Even Rob Kardashian got his time to shine in primetime with Rob & Chyna.
Yet, Kendall, who has never exactly been near the leader board of KUWTK screen time to begin with, has sat out any extra possible television gifts, and, according to her mother, she likes it that way.
In a new interview with Variety, the family's matriarch is asked about any further plans for to expand their shared television reality universe.
"We're just really enjoying the success of Life of Kylie, so that's kind of where we are at right now and just enjoying that for a second," she replied. "But that's kind of how it works. We don't do a spinoff every single season, so we'll see. There's always a spinoff."
So naturally she's asked about a possible Kendall show.
"No," Jenner replies bluntly. "Kendall is really satisfied on her role in Keeping Up With the Kardashians. With her modeling career she's so busy. If she's not walking a runway, she's shooting a campaign or traveling around the world with her fashion obligations. She's a pretty busy little girl."
So it seems, if you think of the Kardashian-Jenners like the Avengers, then Kendall seems fine to be the Black Widow: an important team member in the main movies, but one who likely won't get her own time to shine in the franchise anytime soon.
Though, Jenner is asked about the possibilities of other future spinoffs for her other family members. Here is your quick rundown:
Kim and Kanye: "I don't think so."
Kourtney: "They took the Hamptons, they took several cities around the United States, but I could see her doing another spinoff."
Rob: "He might…Maybe we should come up with something for Rob and Kourtney together?"
The grandchildren: "I think it's a little too early to start thinking about them."
So there you have it, no chance of getting to watch Kendall travel the world as a model or expanding her new found skills as a photographer, but there's always the possibility for something like Rob & Kourtney Take Reno.
Amazingly (and sort of rudely), Variety does not ask Kris if she'd consider a spinoff of her own. If we can't have a Kendall spinoff, then at least give us a show where Kris Jenner hunkers down in her tastefully decorated black and white war room, firing off tips to tabloids, dealing with her children's endorsement deals and deciding how the family should respond to various crisis while sipping white wine and making dinner plans with Melanie Griffith.
Related: Kendall Jenner's Reaction to the Pepsi Controversy Will Be Part of Next Season's KUWTK
Watch: Kendall Jenner Gets Real: "I'm Weird, I Love My Tits Being Out"
Kendall Jenner Gets Real: "I'm Weird, I Love My Tits Being Out"