Kendall Jenner Calls Her Mom During Fashion Week Anxiety Attack in New Keeping Up With the Kardashians Clip
She's opened up about her anxiety before.
---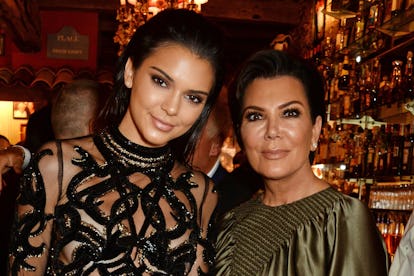 David M. Benett/Getty Images
A month after opening up about her panic and anxiety attacks, Kendall Jenner is giving fans a look at how she deals with one in real time from her mom's point of view.
In the upcoming episode of Keeping Up With the Kardashians, Kendall calls her mom, Kris Jenner, in the midst of dealing with anxiety. As seen in the clip below, Kris picks up the phone in the middle of a meeting with Kim Kardashian West. "Is it urgent?" she asks, to which Kendall can be heard responding, "It's an emergency."
On the phone, Kris immediately makes sure Kendall has taken care of her basic needs and asks if she's physically okay. "Have you eaten something?" she asks. "Do you want me to come take you to the hospital? Okay, I'm going to come get you. Where are you?" Kendall replies that she's really close to Caitlyn Jenner's house, so Kris promises her she'll come get her in 15 minutes before hanging up to let Kendall talk to Caitlyn.
"She doesn't feel well," Kris tells Kardashian, when she asks what's going on. "She's not quite sure what it is." Kris then tells viewers in an interview that Kendall's anxiety might be getting triggered by her busy schedule. "Kendall has anxiety, and I think she has so much going on that she gets herself really worked up," she says. "Kendall gets the most anxious during Fashion Week, so when she's traveling a lot and Milan's coming up and trying to juggle it all, [it's] overwhelming."
In the clip, footage from an older episode shows Kendall FaceTiming her mom in the middle of a panic attack and saying she wants to get off a plane. "It's so weird because I get like super light-headed when I'm on planes, too, and I feel like I'm going to faint," she says in another older clip. "Everyone says I'm fine, but I don't feel fine."
Kendall's shared before that her panic attacks often take place on planes, and last month, she told Harper's Bazaar that she has "such debilitating anxiety" that it sometimes wakes her up at night. She deals with it all by engaging in healthy coping mechanisms; in 2017, she revealed that she does breathing exercises and tries to distract herself when she feels an attack coming on.
"[I] learned that it's all mental, so I try to prevent anxiety attacks by bringing my mind somewhere else," she previously wrote on her app, according to Harper's Bazaar.