Kendall Jenner Is Reportedly Dating NBA Player Ben Simmons
It seems like she and Blake Griffin are over.
---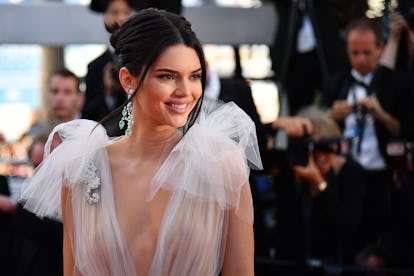 ALBERTO PIZZOLI/Getty Images
In keeping with the grand tradition of Kardashian-Jenners dating NBA players—see: Tristan Thompson, Lamar Odom, James Harden, Kris Humphries—Kendall Jenner has reportedly started dating a new basketball star of her own. According to Page Six, one anonymous source says Kendall has been hanging out with Philadelphia 76ers player Ben Simmons "for a few weeks," while other sources reported having seen the duo at trendy Manhattan restaurant Vandal with some friends last week, and, after TMZ spotted Simmons arriving at LAX on Monday, on a lunch date at the Beverly Hills Hotel this week. "Security measures seemed to have been taken to ensure Kendall and Ben enjoyed their night hassle free," a witness told Page Six of their night at Vandal. "They were smiling the night away with their friends."
Neither Kendall nor Ben has commented on the rumored romance, and this intel comes only from unnamed sources, so take it all with a grain of salt. All we can do is wait for one of them to be pictured or leave a flirty comment on the other's social media, or, perhaps more likely, for Ben to pop up on a future episode of Keeping Up With the Kardashians.
Most recently, Kendall was tied to Blake Griffin, but things reportedly fizzled between them after he was traded from the Los Angeles Clippers to the Detroit Pistons. She and Griffin were first reported to be dating in September 2016, and though neither publicly commented on their relationship—despite being spotted on a string of dinner dates and at red carpet appearances over the next several months—Kendall all but confirmed that they were dating in the April 2018 issue of Vogue, when she was asked point-blank if she had a boyfriend. "I like my private life," she said, before adding, "Yeah…no. I'm happy. He's very nice. I have someone being very nice to me."
Before Griffin, Jenner was linked to another NBA star, Jordan Clarkson. She and the Cleveland Cavaliers player were first rumored to be together in April 2016, and continued to spark dating rumors until early 2017, when they were last spotted together wearing matching hoodies in L.A.