Bella Hadid and The Weeknd Spotted Hanging Out in Paris
A jar of pasta sauce is at the center of the rumored romance.
---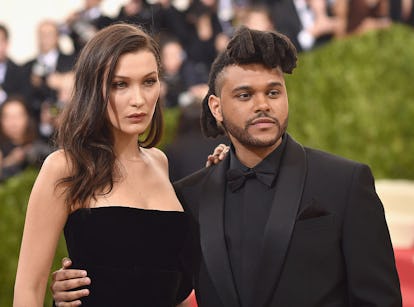 Dimitrios Kambouris/Getty Images
For two people who aren't officially dating, Bella Hadid and The Weeknd are having an enviable summer of travel together. In April, the two were apparently seen together at Coachella, and then in May, Bella and Abel were reportedly seen kissing at the Cannes Film Festival, and they seemingly went on a new adventure together in Paris yesterday.
The Paris excursion, as documented on social media, appeared to start at lunch. The Weeknd uploaded a video of his drink, and some followers pointed out that the voice in the background saying, "You're taking a video of the bubbles" sounds quite a lot like Bella. A fan also tweeted about allegedly seeing the pair at the restaurant.
But that's not all some social media sleuthing revealed. Later, Bella posted a series of pictures from dinner. If you click through to the second picture, you'll see she's balancing a jar of pasta sauce on her head. No biggie? As Elle notes, if you happened to head on over to The Weeknd's Instagram Stories, you'd see that he later posted a picture of his finished meal and that the very same jar of pasta sauce is on the right of the picture. Case closed, folks. These two were having dinner together, which raises new questions about Bella's pictures: did The Weeknd buy her the roses she's dancing with? Because if so, that is very cute.
And while this investigation has been fun, the fact that they were in Paris was also confirmed by paparazzi photos of the two of them together, all smiles and with The Weeknd wrapping his arm around Hadid.
The pair dated officially from early 2015 to the end of 2016, when they decided to call it quits because of their conflicting schedules. In the last couple months, however, it seems their schedules have been aligning more often. The two have yet to make a statement about their sightings together, so we can't say what any of this means for their relationship/friendship.