Allow Kylie Jenner to Teach You How to Make Chicken Matzo Ball Soup—Or Else
"If u don't like matzo balls I can't be friends with you!!!!" was just one of many missives she posted in her 19-part culinary debut.
---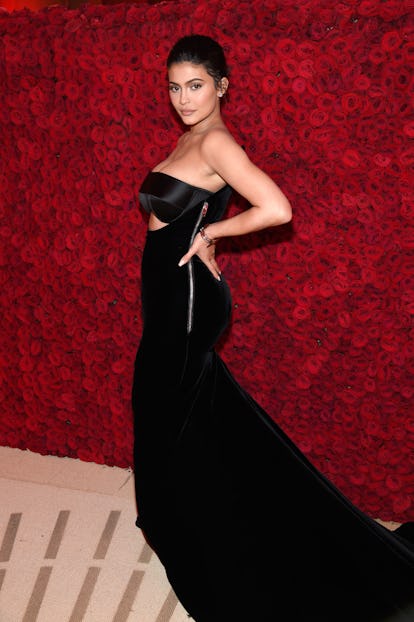 Kevin Mazur/MG18
It's not unusual for Kylie Jenner to make a series of seriously steamy posts on her Instagram. But in keeping with her sisters Kendall Jenner and Kim Kardashian, who've been in the news lately for grocery shopping and working out in their brother's garage, respectively, on Monday night Jenner also made a point to remind the world that just because she's a Kardashian doesn't mean she isn't also a human. In other words, this time around, her steamy series was in fact a 19-part documentary of her soup-making process.
It all started with a Boomerang of some raw onions and celery, overlaid with an omen of the cooking series to come: the caption "CHICKEN NOODLE SOUP." Then, the sound of bubbling oil served as the soundtrack to her announcement that she was simultaneously making matzo balls. After a shot of celery simmering in butter, three simple words made it clear that the series was about to become a tutorial for Jenner's 110 million followers: "SEASON" and "ADD CARROTS."
Ever since she gave birth to Stormi Webster, her daughter with Travis Scott, in February, Kylie has been moonlighting as a mommy blogger, filling her fans in on her pregnancy cravings and offering adorable glimpses of her daughter (as well as her Fendi stroller). While Jenner recently decided to stop posting photos of her newborn on social media, she's apparently instead put her serious entrepreneurial skills to use and opened herself up to new—including almost off-puttingly normal—blogging beats. (Whether she sticks to it or not, her new rule of strictly Stormi-less content at least provides some explanation as to why she decided to take us to, um, kulinary school.)
Yikes! No time for ruminating right now—at this point, your celery is probably burning. No worries, though—Jenner is here to keep you focused. "Once carrots & celery are soft add onion," she wrote in a directive accompanied by three heart emojis. After flashes of chicken broth, chicken bouillon, and egg noodles, Jenner paused before letting us in on the next step—"BOIL CHICKEN AND SHREDDD"—to give a quick but unmissable glimpse at her flat stomach in the mirror that just so happens to be behind her stove. (Rest assured: Chef Kylie is still the same old Kylie.)
Having added the chicken to the pot, Jenner posted a photo of her own personal bowl (featuring two matzo balls and a drooling emoji), which she ate while watching cooking shows. After letting her followers know that she wears glasses now, she quickly got back to business in her penultimate post by declaring "IF U DON'T LIKE MATZO BALLS I CAN'T BE FRIENDS WITH YOU!!!!" as she split one of hers in half.
The grand finale turned out to be a video of Jenner herself—and her still extremely flat stomach—seen rumpling up her hair through a heart-filled filter in a final homage to "MATZO BALL SOUP." Cooking skills, a secret hot bodyguard—who knows what else we may soon discover Jenner has been hiding from us?
Related: Kylie Jenner Explains Why She Named Her Daughter Stormi