Meet Tim Chung, the Hot Bodyguard Kylie Jenner Has Been Hiding From Us
Where did Tim Chung—Kylie Jenner's hot bodyguard—come from, and how did he manage to stay under the radar for so long?
---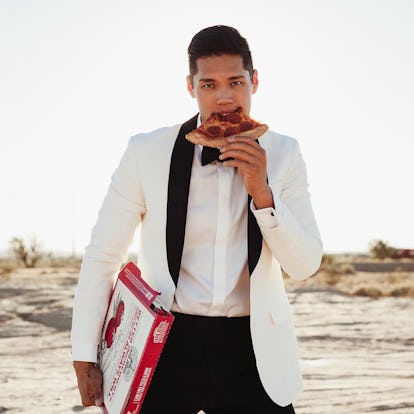 Photo by @timmm.c.
Since the Kardashian West family has allegedly beefed up their security detail, Kylie Jenner's beefy bodyguard Tim Chung has made a splash. The name might not ring a bell just yet, but his face (and torso) are causing quite a stir online.
Somehow, many of us overlooked the part-time model, part-time bodyguard known as Tim Chung, but he has been simmering in the background of the Kardashians' paparazzi photos for a few years now. Since the birth of Stormi Webster, Chung has become more of a visible presence in the background; and some fans have started a rumor that Chung might be the father of three-month-old Stormi rather than Jenner's boyfriend Travis Scott, pointing out the resemblance between Chung and the baby. Though the conspiracy remains unfounded, even some of the most devoted Keeping Up With the Kardashians fans are still left wondering how they overlooked Chung for so long.
Chung wouldn't be the first celebrity bodyguard, or Kardashian bodyguard, to become a social media sensation. Bodyguards for Adele, Justin Bieber, and even Kim Kardashian's former personal bodyguard Pascal Duvier have had their moment
After an old paparazzi photo shot of Chung assisting Jenner into her car resurfaced last week, some social media sleuths naturally found the bodyguard's Instagram, and of course they have already begun to lust after him in the comments on nearly all of his photos. No longer a background player in the life of Kylie, Chung has amassed nearly 500,000 followers on Instagram, and according to his posts he appears to be a police officer in addition to Jenner's hunky, pizza-devouring, model-esque bodyguard.
Between the countless desert photo shoots in Palm Springs, the shirtless hikes in the canyons of Los Angeles, it's no wonder everyone who only just found out about his existence absolutely cannot control themselves in the comments on his page.
While some users have taken to leaving thirsty comments and emojis on his photos (like "Arrest us papi ?"), others have flooded his photos with comments about Stormi ("If u are not stormy's daddy can u be my daddy?" one user asked).
If you haven't followed him already, go ahead. According to Chung's direct replies back to some commenters, he does not appear to mind the attention (he replied to the aforementioned thirsty comment by saying, "hands behind your back please ? @kianacastillooo gonna need your assistance on this one ?").
Chung's relationship status remains unclear for now, but as of August 2015 he was "on lookout for bae," so some of those fans leaving eager comments on his photos might actually still have a chance. And while Jenner and Scott have yet to reply to any theories concerning the paternity of their baby, their recent vacation photos indicate that the two appear to remain completely unbothered by the rumor mill.
Related: Kylie Jenner Is Prepping For the Met Gala With A Skintight Alexander Wang Outfit And Baked By Melissa Cupcakes