Kanye West and Kim Kardashian Are Reportedly Beefing Up Their Security Teams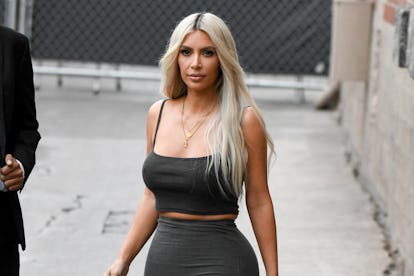 PG/Bauer-Griffin/GC Images/Getty Images
Keeping up with the extended Kardashian-Jenner family will now likely include "numerous strapping and strong gentlemen with nice-looking muscles." In separate reports from the Daily Mail and the family's home channel E! News, Kanye West and Kim Kardashian have both reportedly substantially increased their bodyguard count in the aftermath of West's highly divisive return to Twitter.
While it can't be said for sure that the Kardashian Wests didn't already have these bodyguards on retainer and watchers just never paid close enough attention to who was following them around, the evidence is pretty interesting: E! captured Kardashian being flanked by a lot of guards while filming Keeping Up With the Kardashians with a few of her sisters in downtown Los Angeles on Monday, while West, who usually chooses to stroll with just one guard, if any, was surrounded by three burly men while leaving a dinner in Los Angeles later that day.
The correlation between this increase and West's Twitter musings seems certain, mostly because his social media usage has actually spurred a very serious, very real threat to him and his family. The rapper Daz Dillinger, as E! notes, recently encouraged fellow members of the Crips gang to attack West. "Yo! National alert: All the Crips out there, y'all f*ck Kanye up," Dillinger reportedly said in a now-deleted video. "Better not ever see you in concert. Better not ever see you around the [Long Beach Crips]. Better not see you around California. Stay in Calabasas, you hear me? Because we got a Crip alert for Kanye."
Dillinger's threats were likely birthed by West's sympathetic leanings to President Donald Trump, who West recently likened to his brother-in-arms. "You don't have to agree with Trump but the mob can't make me not love him," West wrote, among many other odd tweets, last week. "We are both dragon energy. He is my brother. I love everyone. I don't agree with everything anyone does. That's what makes us individuals. And we have the right to independent thought." To which Trump responded: "Very cool!" The L.A. County Sheriff's Department is also reportedly aware of Dillinger's threats.
Related: A Comprehensive Guide to Everyone Who Has Subtweeted or Called Out Kanye West, From Rep. Maxine Waters to Missy Elliott
Kim Kardashian and Kendall Jenner at the Met Gala: See the Family's Style Evolution On the Red Carpet
Kim Kardashian and Kanye West, both in Givenchy, arrive to the Metropolitan Museum of Art Costume Institute Gala, Punk: Chaos to Couture, held at the Metropolitan Museum of Art on May 6th, 2013.

Getty
Kim Kardashian arrives to the Metropolitan Museum of Art Costume Institute Gala, Punk: Chaos to Couture, held at the Metropolitan Museum of Art on May 6th, 2013.

Getty
Kim Kardashian, wearing Lanvin, arrives to the Metropolitan Museum of Art Costume Institute Gala, Charles James: Beyond Fashion, held at the Metropolitan Museum of Art on May 5th, 2014.

Getty
Kim Kardashian, wearing Lanvin, arrives to the Metropolitan Museum of Art Costume Institute Gala, Charles James: Beyond Fashion, held at the Metropolitan Museum of Art on May 5th, 2014.

Getty
Kendall Jenner, in Topshop, arrives to the Metropolitan Museum of Art Costume Institute Gala, Charles James: Beyond Fashion, held at the Metropolitan Museum of Art on May 5th, 2014.

Getty
Kendall Jenner, in Topshop, arrives to the Metropolitan Museum of Art Costume Institute Gala, Charles James: Beyond Fashion, held at the Metropolitan Museum of Art on May 5th, 2014.

Getty
Kim Kardashian and Kanye West, both in Roberto Cavalli, arrive to the Metropolitan Museum of Art Costume Institute Gala, China: Through The Looking Glass, held at the Metropolitan Museum of Art on May 4th, 2015.

Getty
Kim Kardashian, in Roberto Cavalli, arrives to the Metropolitan Museum of Art Costume Institute Gala, China: Through The Looking Glass, held at the Metropolitan Museum of Art on May 4th, 2015.

Getty
Kendall Jenner, in Calvin Klein, arrives to the Metropolitan Museum of Art Costume Institute Gala, China: Through The Looking Glass, held at the Metropolitan Museum of Art on May 4th, 2015.

Getty
Kendall Jenner, in Calvin Klein, arrives to the Metropolitan Museum of Art Costume Institute Gala, China: Through The Looking Glass, held at the Metropolitan Museum of Art on May 4th, 2015.

Getty
Kris Jenner, in Balmain, arrives to the Metropolitan Museum of Art Costume Institute Gala, China: Through The Looking Glass, held at the Metropolitan Museum of Art on May 4th, 2015.

Getty
Kris Jenner, in Balmain, arrives to the Metropolitan Museum of Art Costume Institute Gala, China: Through The Looking Glass, held at the Metropolitan Museum of Art on May 4th, 2015.

Getty
Kim Kardashian and Kanye West, both in Balmain, arrive to the Metropolitan Museum of Art Costume Institute Gala, Manus x Machina: Fashion in an Age of Technology, held at the Metropolitan Museum of Art on May 2nd, 2016.

Getty
Kim Kardashian, in Balmain, arrives to the Metropolitan Museum of Art Costume Institute Gala, Manus x Machina: Fashion in an Age of Technology, held at the Metropolitan Museum of Art on May 2nd, 2016.

Getty
Kendall Jenner, in Ateiler Versace, arrives to the Metropolitan Museum of Art Costume Institute Gala, Manus x Machina: Fashion in an Age of Technology, held at the Metropolitan Museum of Art on May 2nd, 2016.

Getty
Kendall Jenner, in Ateiler Versace, arrives to the Metropolitan Museum of Art Costume Institute Gala, Manus x Machina: Fashion in an Age of Technology, held at the Metropolitan Museum of Art on May 2nd, 2016.

Getty
Kris Jenner and Corey Gamble, both in Balmain, arrive to the Metropolitan Museum of Art Costume Institute Gala, Manus x Machina: Fashion in an Age of Technology, held at the Metropolitan Museum of Art on May 2nd, 2016.

Getty
Kris Jenner, in Balmain, arrives to the Metropolitan Museum of Art Costume Institute Gala, Manus x Machina: Fashion in an Age of Technology, held at the Metropolitan Museum of Art on May 2nd, 2016.

Getty
Kylie Jenner, in Balmain, arrives to the Metropolitan Museum of Art Costume Institute Gala, Manus x Machina: Fashion in an Age of Technology, held at the Metropolitan Museum of Art on May 2nd, 2016.

Getty
Kylie Jenner, in Balmain, arrives to the Metropolitan Museum of Art Costume Institute Gala, Manus x Machina: Fashion in an Age of Technology, held at the Metropolitan Museum of Art on May 2nd, 2016.

Getty
Kim Kardashian attends the Rei Kawakubo/Comme des Garcons: Art Of The In-Between Costume Institute Gala at Metropolitan Museum of Art on May 1, 2017 in New York City.

Venturelli
Kim Kardashian is seen at the 'Rei Kawakubo/Comme des Garcons: Art Of The In-Between' Costume Institute Gala at Metropolitan Museum of Art on May 1, 2017 in New York City.

Gilbert Carrasquillo
Kendall Jenner attends the 'Rei Kawakubo/Comme des Garcons: Art Of The In-Between' Costume Institute Gala at Metropolitan Museum of Art on May 1, 2017 in New York City.

George Pimentel
Kendall Jenner attends 'Rei Kawakubo/Comme des Garçons:Art of the In-Between' Costume Institute Gala at Metropolitan Museum of Art on May 1, 2017 in New York City.

Jackson Lee
Kylie Jenner attends the "Rei Kawakubo/Comme des Garcons: Art Of The In-Between" Costume Institute Gala at the Metropolitan Museum of Art on May 1, 2017 in New York City.

Karwai Tang
Kylie Jenner attends the "Rei Kawakubo/Comme des Garcons: Art Of The In-Between" Costume Institute Gala at the Metropolitan Museum of Art on May 1, 2017 in New York City.

Gilbert Carrasquillo