Decoding Kanye West's Return to Twitter, and His Ruminations on Everything From Capitalism to Neck Tats
Yeezus has once again arisen—bringing, of course, his opinions along with him.
---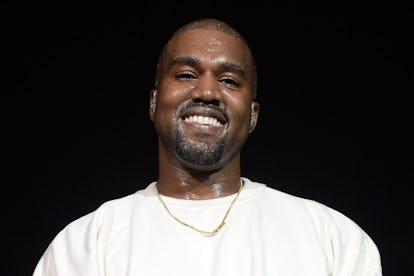 Scott Dudelson/Getty Images
After a prolonged hiatus, Kanye West is finally returning to the public eye. Let's look at the facts: As recently as this February—on Valentine's Day, no less—West resisted being filmed and photographed, even to appear in a few snapshots with his wife, Kim Kardashian. Suddenly, though, in the last few weeks, West has started to appear in front of the camera—and not just in an obligatory family portrait; he was also captured having an utter ball while at the San Diego zoo with North and Saint West.
Then, whereas West stayed silent when Shia LaBeouf claimed West stole his clothes for a pop-up shop—an accusation of the sort that, in the past, could have set West off the rails—just a few days ago, he obliged to do a wide-ranging interview, which included sounding off on his collaborator Virgil Abloh's appointment at Louis Vuitton. And now, as of this weekend, we can officially declare Yeezus's return: On Sunday, West returned to his legendary Twitter account, seemingly opening the floodgates for an influx of future opinions by posting 14 tweets in succession that somehow made it through the night, sans deletion.
There's another indication that West is taking things seriously: The first post on his account came in the form of retweeting a tweet posted late on Friday night by none other than Twitter's cofounder and CEO, Jack Dorsey, welcoming West back to the app, which in turn retweeted a tweet of West's that's since been deleted. Still, West seems to appreciate Dorsey's welcome: It's now his only liked tweet, matching the minimalist approach to his follower to following ratio. (He currently has 3.66 million followers and climbing, while he's only deigned to follow one other account, which of course belongs to Kardashian.)
Kanye West Just Wants to Bring Joy to the World Like Will Ferrell in 'Elf':
Even so, West didn't jump right back into things. His account laid dormant on Saturday (which, no, he did not spend at Coachella) until he resuscitated it on Sunday night, posting the first of 13 more tweets that would follow over the next three hours, continuing until 7:06 p.m. in California. It only took a minute for Jaden Smith to literally thank West for his return, though to be fair, at that point, West had already revisited all the material that had previously been so beloved, from his design experiments to his deeper thoughts on society.
West also more than delivered on his throwbacks: His third post was a blurry, clearly dated photo of a young boy with the discussion-provoking text "caption this," as well as his reminiscing and shedding light on another memory: walking into Madison Square Garden with Lamar Odom, whom he said he'd play his album for "when he was learning to walk and talk again." (Fret not if he deletes the tweets seen below before you get a chance to take a look—we'll replace them with screenshots, since, knowing Kanye, a pretty much universal reaction to those who care about his return was to get the receipts.)
Notably, in his post with Odom and the ones that followed, the file name was visible at the bottom of each image, shedding surprisingly interesting light on West's habits with his JPGs. (Whereas his photo with Odom was named simply "kanye-west-yeezy-season-3.jpg," his image of the word "saint"—we'll get into the meaning of that in just a bit—turned out to be a screenshot taken all the way back in February 2016.)
In between those images, though, were some all-text tweets from West—the sort that have never ceased to amuse, even though West seems to have abandoned his alarming all-caps style for almost entirely lowercase. "Some people have to work within the existing consciousness while some people can shift the consciousness," he posted about 20 minutes after his tweet about Odom, following up that tweet with another all-lowercase one, which has far and away gotten the most retweets (at the moment, 55k) yet. "often people working with the existing consciousness are jealous of those who are more in touch and they become hard-core capitalist in hopes of creating the illusion that the value of money is worth more than the value of time and friends."
Any celebrity at the center of pop culture taking a second to reflect on capitalism is worth noting, but it's especially eye-catching coming from West, given his connection to the family that's essentially become American royalty thanks to their utter mastery of the country's system. Let's break what he's saying down, since it's so cloudily worded that most would simply scroll by what, on the surface, appears to be simply the latest of West's word salads. Essentially, West is sounding off on those working in pop culture or the public eye who attempt to be aware of the framework they're working in—and pretty much are forced to work in, until there's a revolutionary upheaval of the way that the national, and much of the international, economy works. Someone working within the "existing consciousness" would be an individual who's achieved some level of self-awareness, and perhaps even taken steps to address the way things stand on more of a micro level, like starting charities or drawing attention to a particular cause.
The people who "can shift the consciousness," on the other hand, are a level beyond self-aware: They're actively and in fact effectively disrupting the system, opening the door for future, different frameworks to work in. (An example here would be Donald Glover and his show Atlanta, which has, against all odds for a show about the everyday experience of black Americans in the city of Atlanta, been a runaway success—and managed to defy the conventions of what appears on mainstream TV. Similarly, Jordan Peele worked for nearly a decade to release his genre-defying film Get Out, which instantly captured the country's attention when it was finally released last year.)
The former camp, West says, is often jealous of those in this camp, and because of their incomplete understanding of the system, their attempts to get on their level instead backfire and transform them into "hard-core capitalists." All that makes sense—except that, from there, West continues by insisting that they do so "in hopes of creating the illusion that the value of money is worth more than the value of time and friends." Here, we get the sense of how West's thoughts at the moment are rather half-baked; that illusion already exists, and he seems to contradict all of his previous points by saying "in hopes of," which comes across as entirely nonsensical here.
The fact that, just a minute later, West shifted the subject completely, definitely reaffirms the notion that he's thinking out loud, rather than delivering a statement he's spent his silent last few months ruminating on. In an abrupt change of topic, West then posted an early Photoshop rendering of the Yeezy Boost 350, which he said he showed Louise Wilson—the late Central Saint Martins professor who taught Alexander McQueen, Phoebe Philo, Christopher Kane, Stella McCartney, and Jonathan Anderson, and who inspired West to get into fashion—the last time that he saw her.
Then, 30 minutes later, he moved on to the projects he's still developing: his neck tattoo, and a new pair of boots. "I asked my friend to design this neck tat for me," he wrote to accompany a screenshot of a conversation with the designer Gosha Rubchinskiy, making for quite the humble brag on West's part, as few would refer to Rubchinskiy so casually. What's even more notable here, though, is that the DM is clearly from an older version of Instagram, and Rubchinskiy no longer uses the Russian flag avatar pictured. Followed by West's screenshot, which is clearly from all the way back in early 2016, all that suggests that this conversation in fact took place quite a while—as in, more than two years—ago.
West's final two tweets, as of Monday morning, were both about a pair of hiking boots that he said he's "still working to get…right." That seems to suggest West has been planning to roll out the new Yeezy Boosts—except that both images date back even further, to November 2015. Has West really been working on perfecting a pair of boots for three years? Probably not; instead, he seems to now be using Twitter as a sounding board for his fans' opinions, which is definitely a smart—and therefore of course capitalism-friendly—marketing strategy.
Overall, there are certainly more complicated concepts at play than West's recent return to another platform, Instagram, which saw him post a flood of photos of notable couples, like Barack and Michelle Obama, and Gwyneth Paltrow and Brad Pitt, on Valentine's Day. No wonder, then, that Jaden Smith, Twitter's interim king of the crazy quote, is thrilled by West's return.
Related: Kanye West Would Apparently Love to Design a Minimalist Drugstore Line