Kanye West Sympathizes with Young Fashion Designers
The musician-turned-fashion designer adds another hyphenation to his name with a speech at Los Angeles Trade Technical College.
---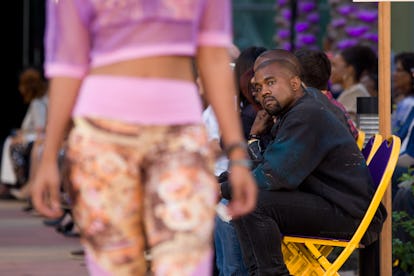 On Friday night, Kanye West took to the stage at the Los Angeles Trade Technical College commencement ceremony to encourage the next generation of fashion designers to pursue their dreams. "I'm really honored to be here tonight around so many creative people, so many dreamers," he began. "As a lot of you know, I really love fashion. It's been a love of mine since as far back as I can remember."
This speech was West's second engagement at LATTC. In September 2014, he completed a mandatory community service order by teaching a course about fashion at the college. Now, he's back under much more positive circumstances. Not only has he completed his community service, a punishment for attacking a paparazzo, but West also has a successful collaboration with adidas Originals, which he presented at New York Fashion Week last February, under his belt.
"I have always had to fight to be accepted," West said. "Even as a successful musician, in order to make the transition it was really all but impossible." He continued, "I empathize with anyone in this era who has ever loved fashion… when kids tell their parents that they want to be a fashion designer, it's not usually met with the same response as the traditionally held career choices."
His personal journey to make the jump from entertainer to fashion designer has been long, and certainly isn't over. It began with his family's creative legacy, from his grandfather who was a carpenter to his cousin TJ who sold bootleg Cross Colors, and really took root in the past decade, when he began to attend fashion shows and learn the craft. "I wanted to see designers deliver their work in their truest form," he said. "The average celebrity designer—their fingers don't get bloody. They don't pick up needles. They don't know how to sew. They don't know how to pattern cut."
Although West admitted that while he can pin "a little," he can't cut a pattern, he reinforced his respect for people who "have taken their time to really learn, and hone their craft, and deliver something of quality." He referenced his mentor, the late Central Saint Martins professor Louise Wilson who taught Phoebe Philo, Alexander McQueen, Christopher Kane, Stella McCartney, and J.W. Anderson before she passed away in May 2014, as a true source of inspiration for achieving success. "She was a really hard instructor. It was like the movie Whiplash, almost. She got sued like three times because she was so tough," he said. Wilson inspired West to learn the craft, and to fight for what he felt was right. "By default, I got a lot of haters since then," he said.
His parting words to the graduates: "When you're the absolute best you get hated on the most. Never stop fighting. No matter what anyone says. No matter how they try to compromise you, compromise your vision. If it's in your gut, if it's in your soul, there's no worldly possession that should come between you and your expression."
"That's all."
Watch the full speech here:
Photos: Kanye West Sympathizes with Young Fashion Designers