The Khloé Kardashian and Tristan Thompson Scandal: A Complete Timeline
A timeline of scandalous events.
---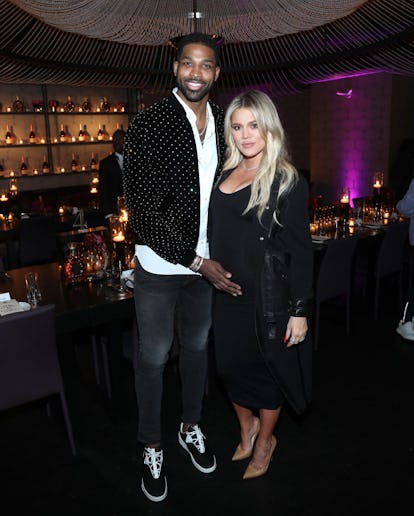 Jerritt Clark/Getty Images
You have probably heard by now that we have yet another mysterious Kardashian scandal on our hands, and this time it involves Khloé Kardashian and her NBA star boyfriend Tristan Thompson.
On Tuesday, Daily Mail released footage of Tristan Thompson, a power forward and center for the Cleveland Cavaliers, and a mysterious brunette woman at a club in Manhattan the weekend before. The footage shows what appears to be Thompson and the random "sexy brunette" making out in the lounge, followed by more footage from The Shade Room of Thompson and the mystery woman entering a hotel together. Khloé Kardashian, who is due to give birth to a baby girl at any moment, is nowhere to be seen in the video.
But here's where things get a little murky—TMZ reports having acquired footage of Thompson cheating with three women on October 7, 2017. While there is technically no way of knowing for sure who leaked the security footage of Thompson making out with three women in a Washington, D.C., hookah lounge to TMZ, it is suspicious that the footage was held by the site and released almost exactly six months later, perfectly timed to the leadup to the birth of Kardashian's first child. In order to get a read on what exactly is going on between Thompson and Kardashian, one really has to go back even further than last weekend to fully unpack the timeline of what is quickly becoming a national scandal.
August 2016
No need to totally debrief you on Kardashian's entire dating and marriage history (just watch Keeping Up With the Kardashians or scroll through Kardashian's Instagram if you think you're missing anything major), but you should know that after an exhausting marriage to Lamar Odom and a short-lived relationship with rapper French Montana, Kardashian began her romance with Thompson in August 2016, followed by a vacation to Mexico in September 2016 and an official confirmation of their relationship in December 2016. The story goes that when Kardashian and Thompson began dating, he was allegedly cheating on his pregnant girlfriend Jordan Craig, who gave birth to their son Prince right around the time Kardashian and Thompson made their relationship status public.
August 2017
After about a year of what many believed to be a blissful relationship between Thompson and Kardashian, a scene of the pregnancy announcement was filmed in August 2017, according to the Internet's resident Kardashian Konnoisseuse, Mariah Smith. The episode did not air until January 2018, but we were all so busy clamoring over Kylie Jenner and whether or not she was pregnant, we missed all the signs that there was trouble in paradise for Thompson and Kardashian, who had moved to Cleveland to be with Thompson while he played for the Cavaliers.
October 2017
On October 7, 2017, TMZ obtained footage of Thompson and three women in that D.C. hookah bar. On that very same day, Kardashian flew from Cleveland to Los Angeles, then two days later filmed a scene in which she tells Thompson over FaceTime that she is pregnant, though it can be assumed that she knew about the cheating that occurred just days before. While Keeping Up With the Kardashians is a reality series, it is important to remember that scenes are often filmed out of order, months before the final cut makes it to your television screen. All of this was eventually edited together for that January 2018 episode of Keeping Up With the Kardashians, as Smith outlined for The Cut.
December 2018
Kardashian, who has famously struggled to have children for years, made her official pregnancy announcement on Instagram, writing to Thompson, "Thank you for making me a MOMMY!!! You have made this experience even more magical than I could have envisioned! I will never forget how wonderful you've been to me during this time! Thank you for making me so happy my love!"
January 2018
Footage aired of Kardashian informing her family of her pregnancy on an episode of Keeping Up With the Kardashians, and she told subscribers to her app that hiding her pregnancy for months "took a few styling sessions, serious strategy, and a sh*t-ton of courage." Meanwhile, TMZ was still sitting on the footage from October, waiting for the perfect moment to release it.
April 2018
On April 9, 2018, Kardashian shared a snap on Instagram of herself and Thompson kissing, with the caption "We are ready whenever you are little mama." The next day, the Daily Mail released the incriminating footage of what appears to be Thompson and the mystery brunette in Manhattan; then TMZ followed suit and released their footage of Thompson with multiple women from October 2017. Even more exclusive footage was released by Instagram's best gossip clearinghouse, The Shade Room, this time showing Thompson and a mystery women entering a hotel together on April 7, 2017, and April 8, 2017.
Craig, Thompson's ex-girlfriend and mother of his son Prince, posted a quote to Instagram Stories, writing, "If you respect yourself and you respect others, you would never make light of the misfortune of anyone, nor would you feel indemnified when it comes at the expense of others." Many believe this to be a response to the cheating rumors.
The old saying "You lose them how you got them" may be true, but that does not make any of this fair to Kardashian, who has gone above and beyond on Instagram for months to prove that she and Thompson are in a happy, healthy relationship while they wait for their baby to arrive.
And Craig is not the only one commenting on the scandal—Amber Rose, close friend of noted Kardashian family enemy Blac Chyna, also shared her opinion on Instagram Stories, writing, "I know we've had our differences in the past but my heart is broken for you sis. Smh no one deserves to feel that pain especially during such a sensitive time. God bless you and your baby." She never explicitly named names, but Rose posted this story hours after the Thompson news dropped, then deleted it shortly after.
At this point, nearly everyone has something to say about the scandal—even Jersey Shore's Pauly D offered his two cents on the whole ordeal (TMZ stirred the pot by cornering the DJ and asking him about it, and he hinted that Kardashian should give Thompson a second chance)—but not one official announcement has been made by a Kardashian or Jenner just yet. Until we get that official statement from Kris Jenner, or an app announcement from Kardashian herself, we'll have to take all future updates on Thompson with a grain of salt, but the footage released by both the Daily Mail and TMZ paints a damning picture for the NBA player, and a devastating one for Kardashian, who very well could be in labor in Cleveland right now. Or maybe they have an open relationship and this is no big deal, who knows?
Update 4/12/18 at 1:00 p.m.: Khloé Kardashian gave birth to her first child early in the morning of April 12 in Cleveland. Kardashian has yet to comment publicly on the cheating scandal or reveal a name for her daughter, but TMZ reports that Tristan Thompson was present at the birth, alongside Kourtney Kardashian and Kim Kardashian (both of whom quickly jetted to Ohio after a vacation in the tropics), Kris Jenner, and her best friend Malika Haqq.
Related: Kendall and Kylie Jenner Reach a Settlement Over "Vintage" Tupac T-Shirts