Kim Kardashian Sets the Record Straight on a Variety of Kardashian Family Drama Updates
From decoding Kanye West's tweets to welcoming Khloé Kardashian's new baby, we're all depending on Kim Kardashian to keep us up to date on the latest family drama.
---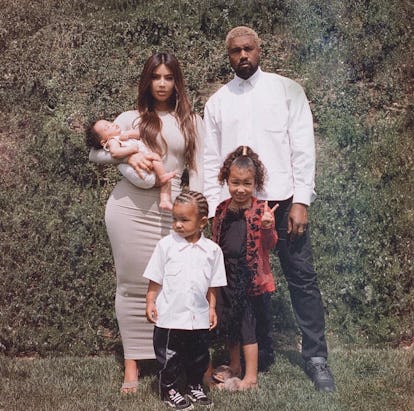 Photo by @kimkardashian.
While Keeping Up With the Kardashians is currently on hiatus, it would have been unwise if Kim Kardashian did not use her time on The Ellen DeGeneres Show to debrief fans on all of the drama that has occurred in her family's life for the past few months. A lot has gone down since the last season ended—Kim Kardashian had her third kid, her sister Khloé Kardashian is a mom now too, and her husband just cannot seem to keep himself offline—but the mogul has opinions to share on all of the above, without being too revealing, of course.
On Being a Mom of Three
While 4-year-old North West firmly maintains her status as the bossy big sister (she refuses to share, Kardashian told DeGeneres), her little brother, 2-year-old Saint West, is apparently very sweet to the newest addition to the family, Chicago West.
Kardashian also revealed that while she stood behind the surrogate for support during childbirth, she requested that her sister Kourtney stay in the room with her, and Kanye West took the edge off waiting for Chicago to be delivered by playing Connect Four in the waiting room. Kardashian admitted that West is better at the game than she is (he did famously beat Beyoncé at a Connect Four match once), but it remains unclear if he won the night Chicago was born.
And although Kardashian wanted each of her children to have monosyllabic first names, she told DeGeneres why they ended up giving their daughter the name Chicago. "We were gonna name her Jo, 'cause my Grandma, Mary Jo. Or we were gonna go with Grace—and then it was Chicago," Kardashian said to DeGeneres. Kardashian also told DeGeneres that the baby girl was nearly named after Kanye West's mother, Donda West, who died in 2007. "He really wanted his mother's name, and I love that name too, but I just wasn't sure," Kardashian said. "It's so much to live up to."
On Kanye's Tweets
In the midst of West's decidedly half-witted political ruminations he has been sharing every day on Twitter ever since his return to the app last week, on Monday the rapper also shared an open letter he received from Jan Adams, the surgeon who operated on his mother for cosmetic surgery just before she died. Prior to this letter, the general consensus was that Donda West passed away from the results of a "botched" plastic surgery, but Adams brings up documentation from the coroner that insists that her cause of death was neglect by her nephew while she recovered from the operation. "This is amazing. Thank you so much for this connection brother. I can't wait to sit with you and start healing," West tweeted along with a screenshot of the letter.
"I didn't even know he got his Twitter again until I started seeing tweets come in from other people retweeting him," Kardashian admitted. "I hear him say all these things in the house…. He was talking about clarity, and he always talks about how we should not have our phones first thing in the morning…. I think he was talking about cleansing," she added.
On Khloé and True
Kardashian's timing in appearing on The Ellen DeGeneres Show could not be more perfect—she spoke out on the Tristan Thompson cheating scandal, then promptly unfollowed him on social media. "Poor Khloé," Kardashian said. "I don't even know how to describe it besides it's just so f***ed up," she continued. "We really were rooting for Khloé, and we still are."
Related: Kylie Jenner Rented Out All of Six Flags Magic Mountain for Travis Scott's 25th Birthday
7 Times Kim Kardashian's Hair Was Ahead of the Game in 2017
Sporting an ultra sleek, shoulder grazing bob at the 2017 Met Gala, Kardashian proves she can rock any hair length.

Getty.
Taking her hair to new lengths, Kardashian shows up at the Balmain event with slick straight, ultra long locks.

@chrisappleton1
Experimenting with color, Kardashian takes on the the pastel pink rocked by other A-listers Cara Delevingne and Nicki Minaj.

@kimkardashian
Kardashian goes platinum blonde during New York Fashion Week, showcasing her freshly dyed locks at the Tom Ford Spring 2018 show.
As the new bombshell waves of the red carpet, Kardashian rocks a signature, sleek high ponytail

@kimkardashian
Returning to a shoulder skimming lob, Kardashian tries on her platinum locks for a change.

@chrisappleton1
Unveiling on Snapchat an even shorter bob, Kardashian took to social media to ask her fans, "Do we like it or is it too short?".

@kimkardashiansnap