Kanye West's Tweet Cyclone: Sifting Through the Aftermath, From Trump's Endorsement to Celebrities' Outrage
The aftermath, as told by Jaden Smith, John Legend, Janelle Monáe, and plenty more names.
---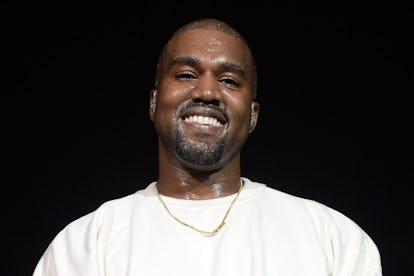 Scott Dudelson/Getty Images
Kanye West just wouldn't stop on Wednesday. Immediately after forming a united front with Kris Jenner to call out TMZ and People magazine (while casually referring to himself as the "future president") on Twitter, West turned what appeared to be a morning tweet storm into a day-long tweet cyclone—one that ended up gaining him the endorsement of both Ivanka and Donald Trump, and reportedly losing him millions of followers.
Apparently among those followers were family members Kourtney and Khloé Kardashian, plus Kylie Jenner. They also reportedly included a laundry list of celebrities, many of whom were black, including Rihanna, Kendrick Lamar, Nicki Minaj, The Weeknd, and Drake. Sure, West was also tweeting about his success with Yeezys, his n skills, and his emoji preferences, but it was his seemingly endless stream of incendiary political commentary and endorsements, from looking forward to meeting with Peter Thiel to, of course, his thoughts on Trump, that have have somehow turned West into something of an alt-right darling.
Yes, besides proudly wearing a "Make America Great Again" hat—he even appears to have one that's signed by Trump himself—West has plenty of other Trump-related thoughts to share. (To the point that Kim Kardashian made him clarify his politics; in related news, she might be the only celebrity still vocally standing by her husband.) According to West, the president is his "brother" and fellow vessel of "dragon energy." And for the record, West claims to love Hillary Clinton along with Trump, but this did not deter Donald and Ivanka Trump from expressing their approval.
Over the course of his tirade, some couldn't help but laugh at the sheer volume and audacity of the content West couldn't seem to stop producing. West, for example, tweeted a photo of the interior of his and Kardashian's home, jokingly comparing it to "the sunken place," a reference to the metaphorical space in which a white family traps and silences black men in Get Out. After which the film's director, Jordan Peele, declared it inspiration enough for a sequel. (Questlove shared the idea to his nearly four million followers, adding, "Hurry!!!!")
After West tweeted about burning an Excel spreadsheet, the Microsoft Excel Twitter account decided to weigh in , and the Onion posted a handful of articles that, even for them, read a little too real:
Maybe the most notable response, though, came from Chance the Rapper. After being prompted to weigh in to the situation as West's fellow Chicagoan (and protégé), Chance shared that he'd talked to West two days prior, and that he's the "same Ye from the Vmas, same Ye from the telethon," and "in a great space and not affected by folk tryna question his mental or physical health." He then prompted a flurry of reactions by adding: "Black people don't have to be democrats."
Some, like Lupe Fiasco, came to Chance's defense—even after declaring "this Kanye Trump thing" to be the "apocalypse"—by reminding his followers of West's groundbreaking public declaration that George W. Bush "doesn't care about black people" in the wake of Hurricane Katrina. But the overwhelming response seemed to condemn not only West, but also Chance, pointing out that while the latter's statement is valid, it's also very reductive. A history of progressive outspoken-ness shouldn't burden West with being the paradigm of a perfectly politically correct person of color, but that overlooks the fact that he didn't even vote in the last presidential election and was suddenly endorsing a politician who's repeatedly and actively perpetuated the racism in America that many, including West, have repeatedly and actively denounced.
Kanye West on How He Just Wants to Bring Joy to the World Like Will Ferrell in 'Elf':
Of course, recently West has started to turn to the likes of Candace Owens, the conservative spokesperson who's revived the idea that, as the Washington Post put it, black Americans are slaves on the Democratic Party plantation. In response to West's endorsement of Owens's views, Janelle Monáe, retweeted a cut of an interview of herself denouncing Owens's views—that "racism is in your mind" and that there's a need to "get over slavery"—which Monáe clarified she doesn't agree with "at all." "I believe in free thinking, but I don't believe in free thinking if it's rooted in, or at the expense of, the oppressed. If your free thinking is used as fuel by oppressors to continue to oppress black people, minorities, I think it's bullshit and it's not okay."
John Legend, for his part, also made the case that history can't simply be erased, in a five-part thread that the Black Lives Matter activist DeRay Mckesson endorsed to his million-plus followers.
Meanwhile, Jaden Smith, who'd previously thanked West for returning to Twitter, now appeared to condemn him, tweeting the phrases "We Need To Go Forward Not Backwards" and "False Idols." According to Pitchfork, Lil Yachty initially responded to queries for his thoughts on West by heralding him with the goat emoji, before apparently catching up and adding: "Lol ohhh I️ get I️t. I️ see why someone asked bout ye lol… yikes," and deleting his tweets. Catch up on more of the comments via Twitter that made it through the night, including Kim's, here.
Related: Allow Kanye West to Clarify That He Doesn't Agree With "Everything" Trump Does, He Just "Loves" Him Like a "Brother"