Kanye West and Kris Jenner Team Up to Tear Down Latest Kardashian Gossip
The rumors that they've been having "explosive" fights have instead caused the pair to explosively unite.
---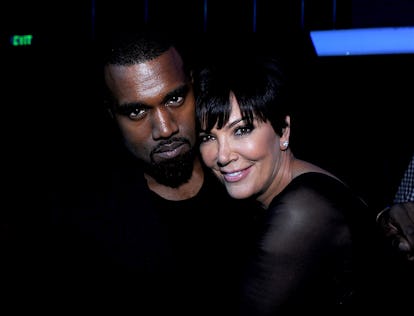 Fox/Getty Images
At 5:45 p.m. on Tuesday, People published a story with the headline "Kanye West Has Had 'Explosive' Fights with Kris Jenner & Kim Kardashian Can't 'Control' Him," stemming from what the outlet called "exclusive" "multiple sources." From there came all the dramatic details you would expect—along with a brief mention that a rep for the Kardashians and Jenners didn't immediately respond to a request for comment.
Unsurprisingly, though, it took less than two hours for Kris Jenner to remind People—and the public—that she's never not on guard. At 7:42 p.m., she took things into her own hands by retweeting the story to her nearly 10 million followers, saying it was "Lies,Lies,Lies." The next time around, she was even quicker: When People's Twitter account shared the story again, at 9:02 p.m., it took her only 52 minutes to respond. ("Nope…not true!")
To her point, some parts of the story are immediately questionable; it cites West's tweet about "get[ting] rid of everything" as one of those that have been "increasingly worrisome to some of his loved ones," and Kim Kardashian's tweet in response—"Wait…EVERYTHING?!?!?!"—as apparent evidence, without mentioning the fact that Kim immediately and directly clarified that the comment didn't remotely come from a place of concern. ("For anyone who has absolutely no humor in their soul please know my tweets are a joke and I will die laughing if I see blogs and media really think I am being serious. So don't even try it," she posted less than an hour later.)
While the story later describes the same tweet as Kim "playfully respond[ing] to her husband," it does so only when upping the drama to quote a source making the case that that was, in fact, her attempt to take charge. ("She's trying her best to support him on social media and show a different side of things, but it's just not working.") According to another source, attempts to tone Kanye down haven't been working for Jenner either: "He's had huge blow-ups with Kris. She sees how erratic he's acting and is most concerned about her daughter's brand. She's also trying to be a good mother-in-law, so he's having explosive issues with her too," a "source close to the situation" shared.
"Everyone is really, really worried," the source continued, though another one goes on to contradict that statement, pointing out that West has always been "eccentric and erratic." ("A lot of this is just Kanye. He's always been like that. He stirs the pot.")
It was only a matter of time before West, who's lately been on an oversharing tear, addressed the matter himself. Sure, he proved that at least one of the sources was right in saying he "can't be controlled" when he tweeted that he no longer has a manager, referring to Scooter Braun, with whom he parted ways on Tuesday—by stating, "I can't be managed." But he also called out the source he seems to think has been calling out his so-called eccentricity: none other than the founder of TMZ, Harvey Levin. ("Let's be friends. Please never use the word erratic to describe a person who is economically and psychologically empowered.")
Then, as part of the 16 tweets he's fired off as of 8:00 a.m., he also took care to address the story directly: "People magazine. Watch how you speak my name. You would love a pair of Yeezys. Don't play yourself."
The self-proclaimed future president certainly hasn't stopped commenting there, but if you don't feel like sifting through his missives—more of which you can find below—they're best summed up in one he posted immediately after addressing People: "I follow the shade room. Please never try to play Ye."
Related: Typos and All, Kanye West Is Live-Writing His Philosophy Book on Twitter