Typos and All, Kanye West Is Live-Writing His Philosophy Book on Twitter
Sample line: "Just stop lying about shit. Just stop lying."
---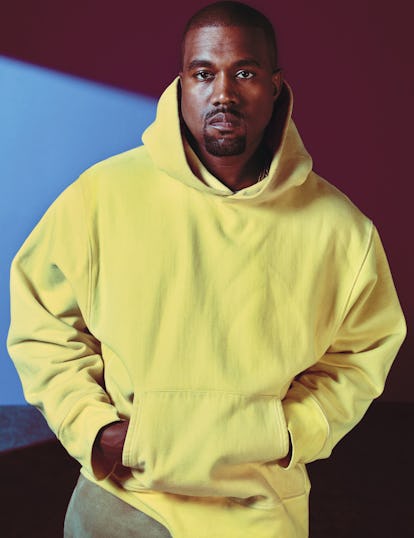 Photographs by Mario Sorrenti, Styled by Edward Enninful.
Last week, Kanye West gave a rare, expansive interview in which he casually mentioned that he's writing a philosophy book—one that he's so serious about that he's already come up with a title: Break the Simulation. On Wednesday, after a weekend that saw him make the long-awaited return to his legendary Twitter account, the musician offered up his usual fare of design snippets and incomprehensible missives—and doublied his following count to 7.6 million and counting—before teasing the book further: namely, how its release is coming up much, much sooner than you think.
Surprise! It's actually out right now—or at least, several installments of it are. After firing off eight tweets within about 20 minutes, which covered everything from general life advice to how he believes "we are all trained actors," West snuck in that, "oh by the way. this is my book that I'm writing in real time. No publisher or publicist will tell me what to put where or how many pages to write. This is not a financial opportunity this is an innate need to be expressive."
Even though he doesn't have an editor hounding him for updates, West still offered a check-in on his progress with the book so far. When exactly he'll complete it, on the other hand, still seems entirely up in the air, since he announced that he "will work on this 'book' when I feel it." (Yes, he put the word "book" in quotation marks—and also proceeded to take live-tweeting to another level by live-editing his live-tweeting-book-writing.)
From there, he shared a few more koans, which the New Oxford American Dictionary defines as "a paradoxical anecdote or riddle, used in Zen Buddhism to demonstrate the inadequacy of logical reasoning and to provoke enlightenment." (At this point, though, they might as well add "used by Yeezus" to the "used in Zen Buddhism" part.) Then West shifted to a much simpler realm that he's scarcely ever entered before: that of emojis. "Cars have four wheels. Hoodies have hoods. It's amusing to me when some one says this is an original hoodie. Bro… it's a hoodie," he said with a shrug emoji.
Kanye West Just Wants to Bring Joy to the World Like Will Ferrell in 'Elf':
Twenty minutes later, it turned out he had another emoji up his sleeve: the laugh-crying one, which came after he said, "I find myself getting stuck in the idea of originality and letting my ego push me to say things like 'this person stole this from me' and the funny thing is it'll be a reference I took from somewhere ?." Perhaps that's why he surprisingly didn't go off when Shia LaBeouf claimed he'd stolen his clothes for a pop-up shop? In any case, he then capped off his latest tweet storm with one less missive, which began, "let's be less concerned with ownership of ideas."
It's reassuring that West seems to be taking things less seriously, because if these tweets really are sections of his book—or "book," as he puts it—he's in dire need of a copy editor. (Or at least someone who's a bit more fond of punctuation.) It would be a bit hard for him to not tone things down between today and yesterday, though, since Kim Kardashian, who teamed up with Chrissy Teigen to publicly tease him and his absurd declarations—as well as adding her own one, that this whole turn of events is most definitely not to be taken seriously. It'd be hard for West to have missed those digs: Kardashian is, after all, still the only person he follows on Twitter.
Related: Decoding Kanye West's Return to Twitter, and His Ruminations on Everything From Capitalism to Neck Tats
Kanye West's Style Evolution, from Sneakers and Sunglasses to Tuxedos and Yeezy
The rapper wore a pink argyle sweater and gold jewelry at the 2004 European Music Awards.

Getty
In 2004, Kanye West attended the Billboard Music Awards wearing a patterned sweater, red bomber jacket, and aviator sunglasses.

Getty
Kanye West continued his love of prep in 2004, wearing a light brown suit over a pink sweater.

Getty
In 2006, West looked cool and casual at the 2006 MTV European Music Awards in a grey zip up and grey sneakers.

Getty
In 2007, West channeled nerd chic on the red carpet, wearing a bomber jacket and crew neck sweater to the In Touch 5th Anniversary Party.

Getty
At the Los Angeles premiere of "Smokin' Aces" in 2007, the rapper once again hit the red carpet wearing sunglasses.

Getty
Kanye West has never been afraid to experiment with his style. At the 2008 American Music Award, the rapper went retro in a bright bomber jacket, printed hat, and jeans.

Getty
In 2008, Kanye West attended the 'Pineapple Express' premiere in Los Angeles sporting a bright blue jacket and his go-tos: sneakers and shades.

Getty
At the amfAR's Inaugural Milan Fashion Week event in 2009, West wore a sleek, all black ensemble, which coordinated with his then girlfriend Amber Rose.

Getty
At the 14th Annual ACE Awards in 2010, West traded in his sneakers for a classic tux.

Getty
In 2011, Kanye West posed with Carine Roitfeld at amfAR's Cinema Against AIDS Gala during the 64th Annual Cannes Film Festival in a sharp tuxedo.

Getty
Kanye West looked classic in camel-colored coach at the Maison Martin Margiela with H&M global launch event in New York City in 2012.

Getty
At the 2013 Met Gala, Kanye West looked classic, while Kim Kardashian, then pregnant with North West, wore a loud, Givenchy look.

Getty
In 2014, Kim Kardashian and Kanye West both took a more elegant route, wearing coordinating Lanvin.

Getty
Kanye mastered casual formalwear at the LACMA Art + Film Gala, wearing a white shirt, jacket, and leather pants.

Getty
In 2015, Kanye West ditched the tuxedo for a casual grey sweatsuit and his own Yeezy sneakers at the MTV Video Music Awards.

Getty
Kanye West dressed down for a casual outing with his very fashionable daugther North West in 2015.

Getty
In 2016, Kanye West wore an all-white ensemble to the 2016 MTV Video Music Awards in New York City.

Getty
At the 2016 Met Gala, Kim and Kanye took the futuristic theme seriously in custom, coordinating Balmain ensembles.

Getty
In 2016, Kanye and Kim attended the Balmain afterparty at Paris Fashion Week. For the occasion, West wore a patchwork jacket and Kardashian donned a shimmering Balmain dress.

Getty