Kim Kardashian Warns 'Blogs and Media' Not to Take These Kanye Tweets Seriously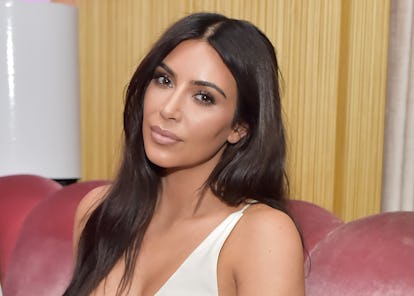 Stefanie Keenan/Getty Images
Today we give thanks to Kim Kardashian, the patron saint of clarifying her own jokes.
On Tuesday afternoon, her husband, Kanye West, went on a bit of an unfiltered tweeting spree now that he's back on Twitter, with one of his tweets catching the eye of his wife. "Sometimes you have to get rid of everything," West tweeted, among other helpful sentiments such as "try to avoid any contractual situation where you are held back from your ideas," and "distraction is the enemy of vision." (It's true! Great advice.) "Wait…EVERYTHING?!?!?! ??‍" Kardashian responded, as she has a normal sense of humor and enjoys tweeting witticisms every now and then. It was clearly meant to be a one-and-done situation until her next social media musing about, we don't know, Kimoji, but Chrissy Teigen just had to insert herself into the conversation and keep the good times going: "I have an air mattress here and I have been itching to bust it out if you need."
"Might need some more for the kids? Just not clear on what everything really means. I need clarity," Kardashian retorted. "Thanks for being such a good friend. Maybe John can call and inquire? But maybe he means friends too? This is confusing." Now, anyone with a fully developed cerebral cortex could tell you these are jokes among friends meant to be humorous to the Twitter populace lucky enough to witness this very public banter, but since tabloids are, well, tabloids, and trolls are trolls, Kardashian had to begin her Wednesday by defending her sense of humor: "For anyone who has absolutely no humor in their soul please know my tweets are a joke and I will die laughing if I see blogs and media really think I am being serious. So don't even try it."
7 Times Kim Kardashian's Hair Was Ahead of the Game in 2017
Sporting an ultra sleek, shoulder grazing bob at the 2017 Met Gala, Kardashian proves she can rock any hair length.

Getty.
Taking her hair to new lengths, Kardashian shows up at the Balmain event with slick straight, ultra long locks.

@chrisappleton1
Experimenting with color, Kardashian takes on the the pastel pink rocked by other A-listers Cara Delevingne and Nicki Minaj.

@kimkardashian
Kardashian goes platinum blonde during New York Fashion Week, showcasing her freshly dyed locks at the Tom Ford Spring 2018 show.
As the new bombshell waves of the red carpet, Kardashian rocks a signature, sleek high ponytail

@kimkardashian
Returning to a shoulder skimming lob, Kardashian tries on her platinum locks for a change.

@chrisappleton1
Unveiling on Snapchat an even shorter bob, Kardashian took to social media to ask her fans, "Do we like it or is it too short?".

@kimkardashiansnap