Allow Kanye West to Clarify That He Doesn't Agree With "Everything" Trump Does, He Just "Loves" Him Like a "Brother"
Kanye West has been tweeting up a storm lately.
---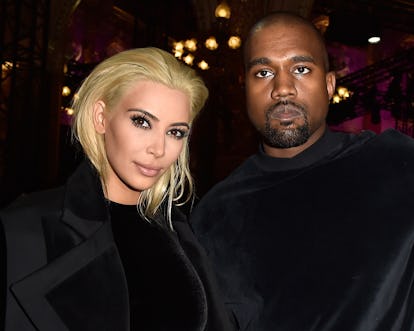 Pascal Le Segretain/Getty Images
Leave it up to Kim Kardashian West to be the voice of reason. Thanks to her, the world is now slightly more enlightened about the nuances of Kanye West's love for President Donald Trump. On Wednesday, the rapper ended another bout of tweeting by clearing up some things at his wife's behest. "my wife just called me and she wanted me to make this clear to everyone," he wrote. "I don't agree with everything Trump does. I don't agree 100% with anyone but myself."
Thanks, Kim! The reality star evidently felt the need for some damage control following a cluster of tweets in which West declared his brotherly affection for the POTUS. "You don't have to agree with trump but the mob can't make me not love him," he wrote earlier. "We are both dragon energy. He is my brother. I love everyone. I don't agree with everything anyone does. That's what makes us individuals. And we have the right to independent thought."
"If your friend jumps off the bridge you don't have to do the same. Ye being Ye is a fight for you to be you," he continued. "For people In my life the idea of Trump is pretty much a 50 50 split but I don't tell a Hillary supporter not to support Hillary. I love Hillary too."
West continued by declaring himself "not even political" and "not a democrat or a republican," before churning out another batch of tweets waxing poetic about love.
These tweets are the latest development in the wild saga of West and Trump's relationship. Back in November 2016, West revealed that he had recused himself from voting, but would have voted for Trump if he had done his civic duty. Then, in December 2016, West dropped by Trump Tower for little chat, after which Trump told reporters that the pair have "been friends for a long time." But trouble struck in February 2017, when the rapper apparently deleted all mentions of his good buddy from his Twitter. Three months later, he deleted his Twitter account altogether.
Now, he's back. For those of you just joining us, the rapper made a triumphant return to Twitter last Monday, and he's been spamming his followers with Yeezy previews, galaxy-brained platitudes, and decrees on emoji use ever since. The volume of tweets may be explained by his new philosophy book, Break the Simulation, which he said he is writing in real time on Twitter. Like his brother in dragon energy, he has also been firing people via tweet, declaring, "I no longer have a manager. I can't be managed" on Tuesday. Same!
Related: Kanye West and Kris Jenner Team Up to Tear Down Latest Kardashian Gossip