Kanye West Paid Donald Trump a Visit and Left With a 2024 Campaign Plan
The master provocateur is back at it.
---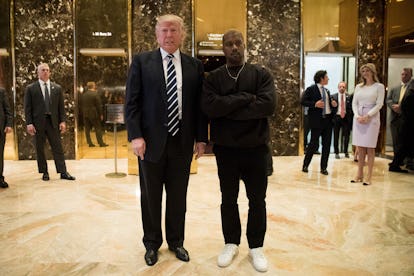 Drew Angerer/Getty Images
This article has been updated throughout.
Well, so much for that private end to 2016. While Kanye West and Kim Kardashian reportedly planned to keep a low profile at the end of a draining year (his hospitalization; her robbery ), things haven't gone quite that way. Turns out, you can't keep West from making waves for long. The artist had a notable and controversial (his two favorite things) reemergence on Tuesday, stopping by Trump Tower to check in with Donald Trump, his apparent longtime pal.
The visit is a surprising one on both ends, at least insofar as anything coming from either Trump or West can still shock. While Trump has mostly used Trump Tower to host those milling about for Cabinet posts, West has only been seen once since his recent release from a Los Angeles hospital.
That sole outing was a relatively quiet one, with West stopping by fashion designer Rick Owens' furniture show and debuting a new blonde 'do. And while West seemed to get back to basics at the art show, his ruckus-causing Trump Tower visit is undeniably closer to classic Kanye. Not to mention, those new yellow locks start to make a whole lot of sense once one sees the Trump Tower lobby.
Despite the intrigue, Trump both downplayed the scene. According to Politico, Trump told reporters that the two "discussed life," not specifying if he meant the board game or the existential pursuit. He also added that he and West have "been friends for a long time," calling West a "good man."
For his part, West didn't quite reciprocate. Keeping mostly mum, he said only, "I just want to take a picture right now," a wish that was readily granted.
Though, according to E! News, the meeting was at the behest of Trump. He reportedly wants to slot West into some sort "ambassador" role. Not to another country, but rather in some sort of "entrepreneurial leadership role."
The fondness between these fellows isn't exactly news. Before West abruptly canceled his Saint Pablo Tour and entered the hospital last month, he caused quite the uproar with his near-endorsement of Trump. He told concertgoers that he didn't vote in the presidential election (bad), but if he had, he would've cast his ballot for Trump (to some, worse).
While his wife, Kim Kardashian, who was pro-Hillary Clinton throughout the election, didn't accompany West, one is never truly Kardashian-free. Corey Gamble, Kris Jenner's boyfriend, was by West's side, stepping aside only for those photo-ops.
West's visit unsurprisingly sent Twitter down the rabbit hole, with jokes, memes, and wild speculations aplenty to fuel the fire. Users made particular note of the significance of the date, as West and Trump's meeting just so happens to fall on Taylor Swift's birthday. Hmm.
As the rest of Twitter spiraled out about West's intentions, West himself returned to a beloved art form: the tweetstorm. In a series of tweets, West revealed that his talk about"life" with the President-elect was not philosophical but material, touching on "multicultural issues" including "bullying, supporting teachers, modernizing curriculums, and violence in Chicago." He explained, "I feel it is important to have a direct line of communication with our future President if we truly want change."
Oh, and despite whatever "ambassador" role he may soon fill, West also made it clear that he still has his eyes on the White House — with an adjusted time frame.
So, sorry, those of you selling "Kanye 2020" commemorative merchandise. You're either going to have to pack it in or find a very thick Sharpie. Despite West's previously announced intention to run in four years, he seems to have no desire to go up against his close pal. Per his latest post-meeting tweet, get ready for Kanye "#2024."
Good news or bad news, it's impossible to say. But given Trump's penchant for digging into insults and West's diss track aptitude, it seems like some bullet, somewhere, somehow, has been dodged. After all, we wouldn't want anything to derail the beginning of this … beautiful … friendship.
Watch a video interview with Kanye West: