Kim Kardashian's Latest Nude Is Just for the Bottle of Her Next Perfume
The most Kim K thing yet.
---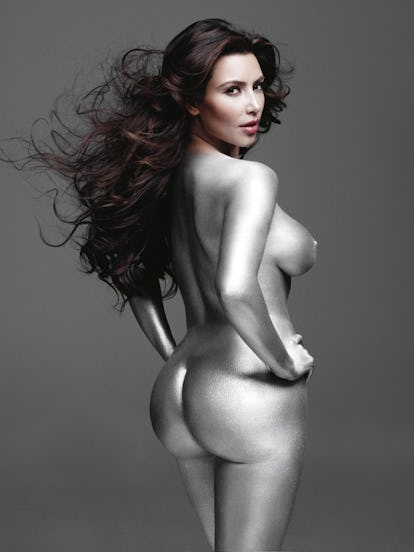 Mark Seliger
Kim Kardashian has mastered the art of the nude, and soon she will be profiting off it. The reality TV star and beauty mogul is bottling up her body and selling it with her next perfume.
Yesterday, the KKW Beauty head announced that her next scent would be contained in a replica of her body, and today she shared photos showing she's making good on that promise. "We took a mold of my body and made it a perfume bottle," she wrote on Instagram, in the caption of a photo in which her most revealing parts are censored. In the photo, Kardashian tagged the artist Vanessa Beecroft, whom her husband, Kanye West, has worked with before. Most notably, Beecroft was responsible for creating West's operatic Yeezus tour, his 2010 "Runaway" video, and his Yeezy presentations, from the debut to the controversial fourth season. Beecroft also seems to be helming Kardashian's promotional photos for her new scent, as Kardashian shared in an earlier post. Notably, Beecroft once told New York magazine that she thought Kardashian was responsible for her being taken off of West's payroll, but it appears that's all under the bridge.
Kardashian talked about the new scent in a recent interview, saying, "The next fragrance I have coming out in May, KKW Body, is so amazing. It is a sculpture, basically, of my body. It's really cool. The scent is so good, I'm so proud of it. It smells, to me, like what I would think golden smells like, even though that's a color and something that's just luminous."
The new perfume follows Kardashian's Crystal Gardenia fragrance, which came encased in crystals. Considering how successful it was (it broke records established by other celebrity fragrances, raking in $14.4 million in one day and selling out within five minutes), there are high expectations for KKW Beauty's latest scent. Kardashian's success with fragrance is all the more impressive given the fact that no one can try the perfumes before buying them, which baffles even Kardashian. "I just think it is fascinating that you can buy a product online without trying it, and how hard it is to test your colors and as much information," she said. "It's just, it's crazy that you can sell fragrance without anyone even smelling it if you describe it well enough, and if they really believe in you."
Related: 8 Beauty Tricks From Kim Kardashian to Amp Up Your Routine