Kim Kardashian Says Her Next Fragrance Bottle Will Be Shaped Like Her Body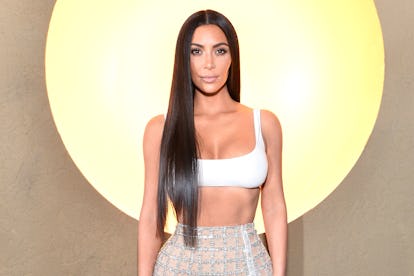 Stefanie Keenan/Getty Images
As someone dedicated to both making perfumes and showing off her curves, it seems natural that Kim Kardashian would find a way to integrate her two passions. The celeb announced that the design of the next KKW Beauty perfume, KKW Body, is taking a page from, well, herself and being modeled after her own famous body. If you got it, trademark it, right?
The name, KKW Body, indicates that the new spray might be more of a full-body mist rather than a traditional perfume, which could shed some light on the product design choice. "The next fragrance I have coming out in May, KKW Body, is so amazing. It is a sculpture, basically, of my body," Kardashian West said in a cover story interview with Business of Fashion. "It's really cool. The scent is so good, I'm so proud of it. It smells to me like what I would think golden smells like, even though that's a color and something that's just luminous."
Since launching KKW Beauty in June 2017, Kardashian spun out KKW Fragrance as a completely separate, wildly successful company; the marketing around her Kimoji scents—yes, those heart-shaped chocolate boxes that the 37-year-old sent to friends and "haters" alike—resulted in more than $10 million of sales before any consumers had even taken a whiff. A fact that does not escape Kim: "I just think it is fascinating that you can buy product online without trying it. And how hard it is to test your colors and as much information," she said. "It's just, it's crazy that you can sell fragrance without anyone even smelling it, if you describe it well enough, and if they really believe in you."
Though Kardashian is a verified marketing genius at this point, even she still feels the intense scrutiny her products and brands are under. "Doing this all year round, there's so much pressure, because you're the only person that you can really go to if you mess up," she said. "You have to come up with the campaign ideas, packaging, product, formula. I mean every last thing, you cannot forget, and you cannot mess up, or the Internet will not let you forget."
Related: Kim Kardashian Announces KKW Beauty Collection with Mario Dedivanovic
7 Times Kim Kardashian's Hair Was Ahead of the Game in 2017
Sporting an ultra sleek, shoulder grazing bob at the 2017 Met Gala, Kardashian proves she can rock any hair length.

Getty.
Taking her hair to new lengths, Kardashian shows up at the Balmain event with slick straight, ultra long locks.

@chrisappleton1
Experimenting with color, Kardashian takes on the the pastel pink rocked by other A-listers Cara Delevingne and Nicki Minaj.

@kimkardashian
Kardashian goes platinum blonde during New York Fashion Week, showcasing her freshly dyed locks at the Tom Ford Spring 2018 show.
As the new bombshell waves of the red carpet, Kardashian rocks a signature, sleek high ponytail

@kimkardashian
Returning to a shoulder skimming lob, Kardashian tries on her platinum locks for a change.

@chrisappleton1
Unveiling on Snapchat an even shorter bob, Kardashian took to social media to ask her fans, "Do we like it or is it too short?".

@kimkardashiansnap