Allow Kim Kardashian West to Explain Why She Sent Her Perfume to Her Haters
Deal with haters the Kardashian way.
---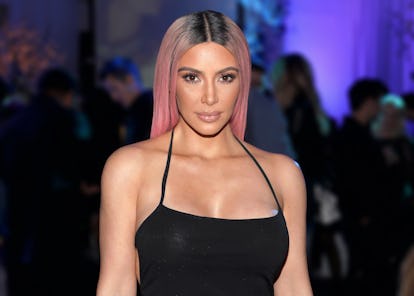 Getty Images
Back in February, Kim Kardashian West sold $10 million worth of perfume with one fiendish move: She gifted free bottles to all of her haters, and posted the recipient list on Snapchat. Now everyone knows that Piers Morgan, Bette Midler, and, yes, Taylor Swift, are the proud owners of KKW Kimoji Hearts Fragrance in "Bae."
On Thursday, the social media empress explained her reasoning behind this maneuver. "When I had my KKW Fragrance KIMOJI Hearts launch, I sent some of my haters the new perfumes," she wrote on her blog. "It was my way of saying they can talk s— about me if they want, but I'm going to keep doing me. Success can sometimes cause people to try and bring you down, just to see you fail."
Kardashian West's words of wisdom are part of a larger guide she posted on how to deal with haters, subtitled, "Negative energy you don't need in your life." She kicks off the post with a reminder that there is—believe it or not—a human being behind all the slut-shaming vitriol and tasteless robbery jokes thrown her way. "I've dealt with a lot of haters throughout my career. People are always coming at us for a million different reasons," she begins. "I used to be really sensitive—I'd have Google Alerts about myself, read the websites and get so upset—but now I don't really care."
Now, Kardashian West writes, her approach is much more zen. "When people say negative things about me, I try to take the high road most of the time," she continues. "I always ask these questions: Will this affect me in a week? In a month? In a year? Usually, the answer is no, but if it's something that really bothers me, I'll respond. If it's going to make me feel better to say something, then I have to do it. I'm especially protective of my family, so if someone hates on them, I'll always stick up for them."
The reality star and Yeezy defender then signed off with some seriously smart counsel. "My advice for anyone dealing with haters is to just keep pushing through," she writes. "If you let people bring you down, it's harder to focus on your goals. Just do you and don't give in to the negativity." Or do—but only if people are coming for Kanye.
Related: Kim Kardashian and Madonna Met Decades Ago, May Collaborate on a Beauty Product
7 Times Kim Kardashian's Hair Was Ahead of the Game in 2017
Sporting an ultra sleek, shoulder grazing bob at the 2017 Met Gala, Kardashian proves she can rock any hair length.

Getty.
Taking her hair to new lengths, Kardashian shows up at the Balmain event with slick straight, ultra long locks.

@chrisappleton1
Experimenting with color, Kardashian takes on the the pastel pink rocked by other A-listers Cara Delevingne and Nicki Minaj.

@kimkardashian
Kardashian goes platinum blonde during New York Fashion Week, showcasing her freshly dyed locks at the Tom Ford Spring 2018 show.
As the new bombshell waves of the red carpet, Kardashian rocks a signature, sleek high ponytail

@kimkardashian
Returning to a shoulder skimming lob, Kardashian tries on her platinum locks for a change.

@chrisappleton1
Unveiling on Snapchat an even shorter bob, Kardashian took to social media to ask her fans, "Do we like it or is it too short?".

@kimkardashiansnap