Kim Kardashian's KKW Kimoji Hearts Fragrances Made $10 Million Using Post-its, Cementing Her Status as a Marketing Genius
The line sold out in just four days.
---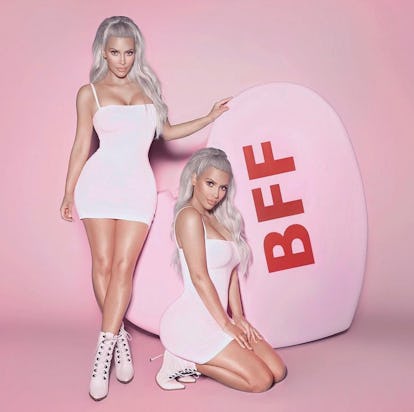 Courtesy of @kimkardashian
No matter your feelings on Kim Kardashian, there's no denying that she and her family are gurus when it comes to business and publicity. Take, for example, Kim's 20-year-old sister Kylie Jenner: In addition to dominating the news cycle with rumors about her pregnancy for months, she's also been running a cosmetics empire that's going to be worth $1 billion by 2022.
It should come as no surprise, then, that just a week after yet again breaking the internet with a Yeezy season 6 campaign that let loose an army of Kim clones, including a practically unrecognizable Paris Hilton—and, of course, just a few days after her sister's practically earth-shattering pregnancy announcement, which also made headlines for Kim by including the public debut of her new baby, Chicago West—Kim is back to making headlines with her KKW Kimoji Hearts Fragrances. More specifically, she's doing so with a low-res image of Post-it notes with names messily scribbled in Sharpie that she only posted for a few brief seconds on Snapchat.
That low-res snap turned out to be a genius marketing move. Sure, Kim also posted a series of eye-catching, stylized photos of her with life-size versions of each heart-shaped perfume, but we would put all our money on the Post-it notes selling out the fragrances in just four days—and, as the Daily Mail reports, raking in $10 million. The Post-its in question spelled out a list of at least 36 names to whom Kim was personally sending the fragrance—just her fans and supporters, like her sisters Khloé Kardashian and Kendall Jenner and influencers like Anna Wintour, but also—gasp—Taylor Swift.
Also in the hater camp who received packages were Piers Morgan, Bette Midler, and Chloë Grace Moretz, all of whom have been called out for slut-shaming Kim. Putting those differences aside—and, of course, simultaneously using them to her advantage—Kim sent them all samples of her line nonetheless, which consists of three fragrances: Bae, BFF, and Ride or Die. (So far, 300,000 of the 30ml bottle have sold, raking in millions despite costing only $30 apiece.)
The Kardashians Inspired Jessica Chastain When She Was Shooting "Molly's Game":
The remarkable part of the campaign's success is that pretty much none of the at least three dozen celebs who received the fragrances have even posted about receiving them on social media, which of course would have drawn their millions of followers' attention to the fragrances. That would be all, of course, except for social media extraordinaire Busy Philipps, whose name doesn't appear to even have been on the original list, but who tweeted about "secretly hoping" that Kim would send her one of the fragrances (which, by the way, were packaged in giant chocolate hearts that had to be broken open with a tiny mallet). Just a few days later, Kim granted her wish and sent one over, even though, as Philipps put it, "I don't know you." But her 200,000 or so followers who've watched her ecstatic unboxing clip definitely now know of the Kimoji Hearts Fragrances.
Kim, meanwhile, celebrated the news of the line selling out by posting yet another oversized heart emoji, exclaiming how "grateful" she was to "everyone who got my new candy hearts perfumes." After continuing in describing her excitement with no less than exclamation points, she concluded her thank-you note like a true businessman: by reminding her followers that the Kimoji scents might be sold out, but that her "crystal gardenia is still available on kkwfragrance.com."
Related: An Exhaustive Guide To All the "Haters" Kim Kardashian Is Gifting Her KKW Kimoji Hearts Fragrances, From Taylor Swift to Chloë Grace Moretz