An Exhaustive Guide To All the "Haters" Kim Kardashian Is Gifting Her KKW Kimoji Hearts Fragrances, From Taylor Swift to Chloe Grace Moretz
It looks like everyone in Hollywood is going to smell like Kim Kardashian this February.
---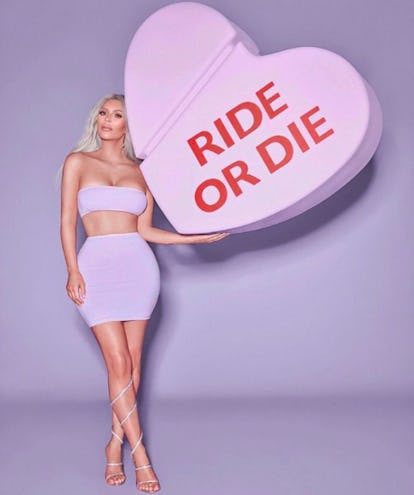 instagram.com/kimkardashian
It could be argued that there is no one better at social media than Kim Kardashian. After all, she—along with the rest of the Kardashian-Jenner clan—has it largely to thank for her meteoric rise to stardom. So when the reality TV star turned beauty and media mogul posts something on any one of her channels, it is never without intention. Such is the case with one of her latest Snapchat photos which offers a brief—albeit screen shot-worthy—list of people Kardashian plans on sending her newly launched KKW Kimoji Hearts Fragrances to.
Upon first look, the list seems standard enough. There's many familiar names, and familiar faces, from Kardashian's usual orbit including her sisters and mother, Chrissy Teigen, Cher, Ciara, her Yeezy doppelgänger Paris Hilton—the list goes on. What is notable, however, is that after a closer inspection, Kardashian's organizing method emerges and it sure is something. KKW Beauty fans will notice that the colored post-its correspond to the three scents Kardashian is offering with the Kimoji Hearts: "Bae," "Ride or Die," and "BFF." Assuming the blue stands for "Bae" — which comes in a blue bottle and the purple marks "Ride or Die," which comes in purple, we can conclude that the red signifies "BFF."
What's more interesting is which people Kardashian has slotted to each color. Her inner circle stretches across the purple ("Ride or Die") and red ("BFF") post-its, from her super fan turned friend Jennifer Lawrence to her longtime hair stylist Jen Atkin and family friends Hailey Baldwin and Lala. However, on the blue side, the recipients are all known Kardashian haters. Here, a quick look at each.
Taylor Swift Perhaps the most obvious of all of Kardashian's haters is Taylor Swift. While the pair momentarily repaired things during the 2015 Grammys where they were even photographed laughing, Swift has reignited the feud multiple times since. Most notably when she claimed she never gave Kanye West permission to use her name in "Famous"—Kardashian later leaked an audio clip proving that she had—and, more recently, when she attempted to appropriate the snake (Kardashians' followers' go-to emoji for Swift) on her Christmas card.
Blac Chyna While Kim Kardashian and Blac Chyna were once close friends, and it was through their friendship that Chyna connected with Rob Kardashian, leading to the two sharing a child Dream, these days they are anything but. In mid-January, Chyna's lawsuit against Kardashian and Kris Jenner was finally dismissed with a judge concluding that the two didn't block the aspiring reality TV star's chance at a second season of Rob & Chyna.
Sarah Michelle Geller This one may be further from the forefront of memory. Back in 2014, when Kardashian and West were named #worldsmosttalkedaboutcouple on the cover of Vogue, hater Geller tweeted, "Well……I guess I'm canceling my Vogue subscription. Who is with me???" That prompted Kardashian's BFF Jonathan Cheban to tweet back, "Do u matter?"
Janice Dickinson That same Vogue cover also sparked hate from Janice Dickinson who said in 2016, "Kim Kardashian made the cover of Vogue, which made me want to vomit. It was crazy. They're not models! They're reality TV stars! You know, modeling is extremely hard work, you have to have perfect proportions. The Kardashians do not have couture proportion."
Naya Rivera Another magazine cover, another hater. When Kardashian was on the cover of PAPER, former Glee star and former girlfriend of West prodigy Big Sean responded with a comment on Instagram writing, ""I normally don't. But… you're someone's mother…" Never mind that a day later Rivera shared a behind-the-scene photo from a naked pregnant shoot.
Piers Morgan Kardashian has also been slut-shamed by Piers Morgan, first in 2016 with her nude mirror selfie, and, most recently, this week after Kardashian posted yet another extra selfie. "Oh put them away, for goodness sake. ?,," he tweeted.
Chloe Grace Moretz Another person who has been accused of slut-shaming Kardashian is Chloe Grace Moretz who tweeted in response to Kardashian's 2016 naked selfie, "I truly hope you realize how important setting goals are for young women, teaching them we have so much more to offer than just our bodies." Kardashian responded with the burn, "let's all welcome @ChloeGMoretz to twitter, since no one knows who she is." Then, later in the year, Moretz defended her comment to Glamour, saying "That picture wasn't linked to body confidence. It wasn't a #BodyConfidence or #LoveWhoYouAre. It was done in a slightly voyeuristic light, which I felt was a little inappropriate for young women to see."
Bette Midler Kardashian also shut down Bette Middler after the actress, singer, and comedian responded negatively to the same photo, tweeting, "Kim Kardashian tweeted a nude selfie today. If Kim wants us to see a part of her we've never seen, she's gonna have to swallow the camera." "hey @BetteMidler I know it's past your bedtime but if you're still up and reading this send nudes #justkidding," she tweeted.
Kardashian also questioned whether or not Midler had falsely befriended her, tweeting, "hey @BetteMidler I really didn't want to bring up how you sent me a gift awhile back trying to be a fake friend then come at me #dejavu," to which Midler replied, "I never tried to fake friend you. Looks like anyone can take a selfie but not everyone can take a joke…"
Chelsea Handler Kardashian's feud with Chelsea Handler requires more explaining, as the talk show host used to be a family friend of the Kardashians with Khloé Kardashian even filling in for her on Chelsea Lately. However, their relationship took a turn last summer when Handler told Variety that Donald Trump's presidential win was the Kardashians' fault. "We've turned into a reality show," she said. "I blame the Kardashians, personally; the beginning of the end was the Kardashians. The way there people have blown up and don't go away – it's surreal." Khloé later called her a "b-tch" on Keeping Up With the Kardashians.
Sharon Osbourne Kardashian has also dealt with slut-shaming from Sharon Osbourne, who called told the Daily Telegraph, "If Kim wants to show off her body, fine. But that's not feminism, that's being a ho. And there's nothing wrong with being a ho, but always remember what you are." Kardashian later addressed the sound bite to E! News, saying, ""First of all, I think she said I said a quote about, 'I post nude photos in the name of feminism.' Never said that. So I think when people misquote you and then comment, it just sounds ridiculous," Kim shared with us. "I post nude photos because I like how I look and I feel proud when I've lost all this baby weight and I post it because I feel like posting it and I feel powerful… I've never been like the 'free the nipple' kind of girl so…if I post a photo, I post it because I like how I look. So she kind of misquoted me on that and I thought it just looked really, like stupid."
Wendy Williams Wendy Williams can't seem to handle Kardashian's nude Instagram selfies either as she responded to the latest by saying, "Kim, you know what? It's clear that Kanye has nothing for you except dribble and feeble conversation. It is clear that Kanye does not pay attention to you. It's clear to me that you are desperate, desperately trying to stay in the spotlight."
Pink While most celebrities who dissed Kardashian's nude selfies have been pointed, singer Pink did so with a subtweet. "Shout out to all of the women, across the world, using their brains, their strength, their work ethic, their talent, their 'magic' that they were born with, that only they possess," Pink had written in a post on Twitter at the time. "It may not ever bring you as much 'attention' or bank notes as using your body, your sex, your tits and asses, but women like you don't need that kind of 'attention'," she wrote back in 2016 after Kardashian posted her first infamous nude selfie. She later expanded on her point of view, telling Andy Cohen, "Honestly, she went in on Bette Midler. If you go in on Bette Midler, you're probably gonna hear from me. You just don't talk to Bette Midler… about anything."
As Kim subtweeted in 2016, "Reading my comments like….LOL."
Related: Paris Hilton Does Kim Kardashian Drag For Yeezy Season 6 Campaign
Here Are the Real Heroes of the Kardashian Jenner Family Empire