Taylor Swift Put a Snake On Her Holiday Card: "Happy Holidayssss!"
The old Taylor is dead, remember?
---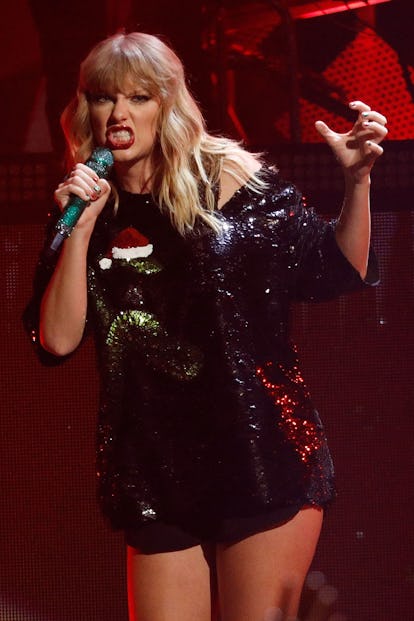 Taylor Hill/FilmMagic
Taylor Swift and the snake have a long history, dating back to at least 2016 when her ex-boyfriend Calvin Harris spoke out against the artist, revealing that she "and her team [went] so far out of their way to try and make [him] look bad," prompting some of the producer's fans to plaster the snake emoji on the singer's Instagram. The same year, the snake emoji also flooded Swift's Instagram after her feud with Kim Kardashian and Kanye West led to the reality TV star sharing a clip of Swift signing off on Kanye West's "Famous," where he claims "I made that bitch famous." Not to mention, Kardashian shared that clip on National Snake Day, later tweeting, "Wait it's legit National Snake Day?!?!?They have holidays for everybody, I mean everything these days! ?????????????????????????????????????" Now, however, over a year after that incident and almost a month since Kardashian reopened that wound, sharing a photo of a body double of Swift created for the "Famous" video, Swift is attempting to reclaim the snake as her own.
This year, Swift used a snake on her holiday card. "Happy Holidayssss!," reads her card, which was shared on Snapchat by her music talent manager Andrew Gertler, as People reports. "May your reputation shine bright this holiday season! Love, Taylor."
This isn't the first time Swift has attempted to appropriate the snake. Back in August, when the artist resurfaced on social media following her feud with Kardashian and West, Swift did so with a flickering video of a snake.
Later that month, Swift rolled out a batch of new merchandise that was all snake-themed, from a 24-karate gold snake ring to a black hoodie with a snake emblazoned on it. She's also been wearing snakes. She wore a snake necklace in her "Look What You Made Me Do" video as well as a pair of Gucci boots featuring a snake. Kardashian and West, meanwhile, have yet to respond to Swift's adoption of the snake. We're guessing they didn't make the cut for her holiday card list, though.
Related: Taylor Swift's "Look What You Made Me Do" Video: Homage or Ripoff?