Jennifer Lawrence, Kardashian Superfan, Just Surprised Kris Jenner With the Best Christmas Gift
"My girl didn't disappoint."
---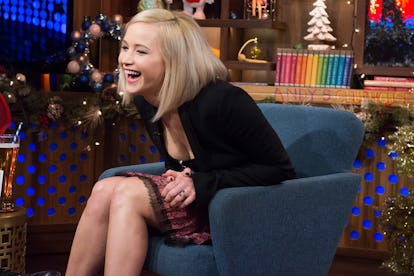 Charles Sykes/Bravo/NBCU Photo Bank via Getty Images
Oscar-winning actress Jennifer Lawrence has been pretty clear that she loves all things Kardashian.
"The Kardashians are more comforting to me, I think," she said during an interview with Entertainment Tonight. "I've been watching them for 11 years, so I grew up with them, and I know all of them personally. The Housewives, they go in and out. They're fighting all the time. There's something more comforting about the Kardashians."
Kim Kardashian freaked out—"OMG is this real?!" she wrote on Snapchat—and thus, a high-profile best-friendship was born, complete with one very drunken night in which Lawrence wound up drunk and naked in Kris Jenner's closet. Since then, Lawrence has even appeared on Jimmy Kimmel to guest-interview Kim Kardashian—a moment that quickly went viral.
It turns out, Lawrence is also BFFs with Kardashian matriarch and momagerKris Jenner. And even proved it by getting her the ultimate Christmas gift. Now, it must be pretty hard to figure out what to get the family that pretty much literally has everything (and what they don't have they can create a line of in about two seconds), but Lawrence managed to do it. This season, she appeared to gift Jenner her No. 1 item on her Christmas wish list: a Porsche.
Jenner, of course, posted about the gift on Instagram. "My BFF #Jenniferlawrence asked me what i wanted for Christmas and of course I said a Porsche, DUH. My girl didn't disappoint. Thank you Jen I love you!!! #bffsforever #christmassurprise #jlaw #soexcited" she wrote.
But, of course, this is Jennifer Lawrence, Hollywood's resident jokester, so instead of a full-sized, very operational vehicle, Jenner got what looks like a Saint West-sized mini-Porsche. LOL.
A Definitive Ranking of Kardashian Christmas Cards, From Least Kardashian to Most Kardashian
Mispelling of Khloe's name aside, this card is most definitely the least Kardashian thanks to one notable exception: as if Kris Jenner would ever miss a photo opp nowadays.
While this was years before Kim was running around with Karl Lagerfeld and Riccardo Tisci, you can still see the pain in her eyes over having to wear ill-fitting, matching motorcycle jackets with the male-heavy Jenner clan.
A Kardashian never misses the chance for a full-scale, glam-squad heavy photoshoot. The fact that they skipped a prime opportunity for the 2009 holiday card in favor of an outtake from Khloe's wedding is very off-brand.
As everyone who has caught a glimpse of Keeping Up With the Kardashians or paged through an Us Weekly in the past decade knows, this family is not without some serious drama. The party-themed, all smiles 2012 card is just a little too happy.

Courtesy of Celebuzz
Another all-white card, but at least this one comes with some angst (Hi, Khloe) and tense smiles that nod to some underlying drama. Bonus points for a tiny baby Kendall Jenner and an appearance from Santa.
Here we have some high glamour Kardashians, as we've come to know and love—at least, until the Yeezy athleisure movement came in full-force. The fact that Kim's shade of red is just slightly off from the rest of the clan is a great easter egg.
The 2013 David LaChapelle-lensed card was a tipping point for the family, as they went from "delightfully zany" to just "full-on insane." There are just so many things to look at here—which, truly, could be said about the family in general.
A distinct departure from the bonkers previous card, once Kim and Kourtney started building their own brood, they let the kid's take center stage in the family's holiday card. A cute thought, but if rumors are too be true, the concept might be a little too crowded come next year.
You want drama? Glamour? Welcome to the 2010 Kardashian family card. This was the first year to let each sister's individual style stand out, a nod at many fashion empires to come.
2011, however, was the card to end all cards. Case in point? It was in 3-freaking-D. Your Christmas card could never. But hey, what are Kardashians if not ahead of their time?