Kim Kardashian Can't Believe Jennifer Lawrence Is a Keeping Up With the Kardashians Fan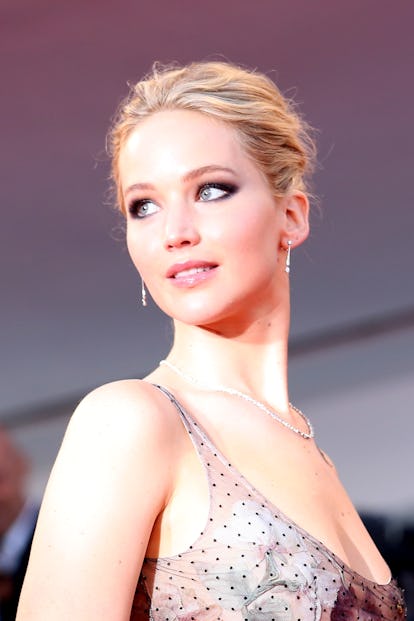 Getty.
Stars, they really are just like us.
Kim Kardashian was just minding her own business, enjoying some evening E! News while getting ready for bed, when she discovered something truly amazing: Jennifer Lawrence is a huge fan of watching Keeping Up With the Kardashians.
"The Kardashians are more comforting to me, I think," Jennifer shared during an interview with Entertainment Tonight. "I've been watching them for 11 years, so I grew up with them, and I know all of them personally. The Housewives, they go in and out. They're fighting all the time. There's something more comforting about the Kardashians."
Kardashian responded, posting on Snapchat, "OMG is this real?!"
This isn't the first time Lawrence has made her Kardashian obsession known. Previously, she told Vogue how the crew on the set of her distressing new movie, Mother!, helped her set up a 24-hour "Kardashian tent" to cheer her up with the exploits of Kim, Kourtney, and Khloé after she had to shoot particularly disturbing scenes. "I wasn't involved in that," her boyfriend and the film's director, Darren Aronofsky, said. "I was like, 'What are you talking about, the Kardashians?'" Lawrence, ever the one to stick up for herself, added: "He just finds it so vastly disappointing."
But perhaps most importantly, remember that wild night out Lawrence and the Kardashian matriarch, Kris Jenner, had two years ago to ring in her 25th birthday in Los Angeles? She's more interwoven with the Kardashians than you might realize, one show-stopping pose at a time.
Here's hoping for a J.Law cameo in KUWTK season 15.
Of course, everyone involved is plenty busy.
Lawrence is busy promoting mother!, and just today the trailer for her next film Red Sparrow, in which she plays a sexy spy, was released. Meanwhile, Kardashian just teased that she's releasing a new fragrance through her KKW Beauty line.
Related: Jennifer Lawrence Dresses Up As a Ballerina For the Mother! World Premiere
Fall Fashion Advice from a Very Young Stylist: