Kim Kardashian West May Be Launching a Fragrance Next
She's revealing the scent, note by note.
---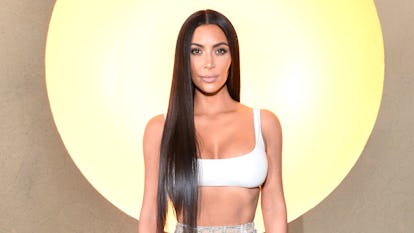 Stefanie Keenan/Getty Images
Kim Kardashian West has a lot going on: she just launched her cosmetics brand KKW Beauty, she already has a line of four perfumes, and now it seems she's getting ready to launch yet another perfume, perhaps in conjunction with KKW Beauty.
On Wednesday night, Kardashian West shared a close-up photo of a bunch of pink flowers on Instagram with the caption, "Gardenia." What should have been an on-the-nose caption soon turned into quite the mystery for the reality star's followers, once they realized that the flowers in the picture were not gardenias at all. "Those are orchids, but they're very pretty," one encouraging commenter wrote, while another added, "lol those are orchids! But you still give me life, KKW!"
We may never know for sure whether Kardashian West is trying to test her followers' gardening knowledge (if so, they passed with flying colors) or if she deemed real gardenias not pretty enough to be featured on her highly curated Instagram feed. We do know, however, that one of the two flowers is linked to an upcoming KKW fragrance, since one of those not-really-gardenias was tagged with a link to a brand-new "kkwfragrance" Instagram account. The page, simply titled "KKW," currently has zero photos and just over 300 followers, but you can expect that number to climb toward Kardashian West's own 103 million count once she starts giving more straightforward hints about the floral perfume.
Kardashian West previously teased a KKW fragrance on her Snapchat and in an interview with Allure over the summer, but claimed it wouldn't arrive until the "end of the year." She added, "There's definitely going to be a few other products coming out from the line pretty soon, it'll kinda move fast." An undereye concealer kit was reportedly already in the works. "It has taken me years to figure out how to conceal my dark circles on my undereyes. That's what people were always asking me," she said — but perhaps more people started asking about her signature scent instead.
No word on what this mean's for Kardashian's existing scents, but its worth noting that Kardashian West, unlike many celebrities who partner with existing companies, owns her new KKW label outright.
Related: Rihanna's Fenty Beauty Collection Is Finally Here, and the Results Are Truly Inspiring
See Kim Kardashian, Nicki Minaj, Julianne Moore and All the Other Famous Faces in New York Fashion Week's Front Row
Kim Kardashian attends the Tom Ford show during New York Fashion Week Spring 2018 in New York, New York, September 2017.

Gary Gershoff/Getty Images
Ansel Elgort attends the Tom Ford show during New York Fashion Week Spring 2018 in New York, New York, September 2017.

Gary Gershoff/Getty Images
Julianne Moore attends the Tom Ford show during New York Fashion Week Spring 2018 in New York, New York, September 2017.

Gary Gershoff/Getty Images
Rande Gerber and Cindy Crawford attend the Tom Ford show during New York Fashion Week Spring 2018 in New York, New York, September 2017.

Gary Gershoff/Getty Images
Doutzen Kroes attends the Tom Ford show during New York Fashion Week Spring 2018 in New York, New York, September 2017.

Gary Gershoff/Getty Images
Sistine Stallone attends the Tom Ford show during New York Fashion Week Spring 2018 in New York, New York, September 2017.

Gary Gershoff/Getty Images
Cameron Dallas attends the Tom Ford show during New York Fashion Week Spring 2018 in New York, New York, September 2017.

Gary Gershoff/Getty Images
Ciara attends the Tom Ford show during New York Fashion Week Spring 2018 in New York, New York, September 2017.

Gary Gershoff/Getty Images
Brooke Shields attends the Tom Ford show during New York Fashion Week Spring 2018 in New York, New York, September 2017.

Mireya Acierto/Getty Images
Yolanda Hadid at the Desigual show during New York Fashion Week Spring 2018 in New York, New York, September 2017.

Dia Dipasupil/Getty Images
Hopper Penn attends the Desigual show during New York Fashion Week Spring 2018 in New York, New York, September 2017.

Dia Dipasupil/Getty Images
Justine Skye attends the Desigual show during New York Fashion Week Spring 2018 in New York, New York, September 2017.

Dia Dipasupil/Getty Images
Katie Holmes attends the CFDA presentations during New York Fashion Week Spring 2018 in New York, New York, September 2017.

Robin Marchant/Getty Images
Cindy Crawford and Rande Gerber at the Brock Collection show during New York Fashion Week Spring 2018 in New York, New York, September 2017.

Michael Loccisano/Getty Images
Rachel Bilson at the Brock Collection show during New York Fashion Week Spring 2018 in New York, New York, September 2017.

Michael Loccisano/Getty Images
Kate Mara at the Noon by Noor show during New York Fashion Week Spring 2018 in New York, New York, September 2017.

Dia Dipasupil/Getty Images
Carmen Carrera at the Tadashi Shoji show during New York Fashion Week Spring 2018 in New York, New York, September 2017.

Dia Dipasupil/Getty Images
Kate Bosworth, Jaime King, Caroline de Maigret, Sofia Sanchez de Betak, and Laura Love at the Jason Wu show during New York Fashion Week Spring 2018 in New York, New York, September 2017.

Nicholas Hunt/Getty Images
Alycia Debnam-Carey at the Ulla Johnson show during New York Fashion Week Spring 2018 in New York, New York, September 2017.

Krista Kennell/Getty Images
Rocky Barnes at the Ulla Johnson show during New York Fashion Week Spring 2018 in New York, New York, September 2017.

Krista Kennell/Getty Images
Action Bronson at the Kith show during New York Fashion Week Spring 2018 in New York, New York, September 2017.

Chance Yeh/Getty Images
Scott Disick at the Kith show during New York Fashion Week Spring 2018 in New York, New York, September 2017.

Chance Yeh/Getty Images
Teyana Taylor at the Kith show during New York Fashion Week Spring 2018 in New York, New York, September 2017.

Amber De Vos/Getty Images
Sofia Richie at the Kith show during New York Fashion Week Spring 2018 in New York, New York, September 2017.

Amber De Vos/Getty Images
Cara Santana, Shay Mitchell, Jenna Dewan, and Malin Ackerman at the Cushnie et Ochs show during New York Fashion Week Spring 2018 in New York, New York, September 2017.

Theo Wargo/Getty Images
Madison Beer at the Cushnie et Ochs show during New York Fashion Week Spring 2018 in New York, New York, September 2017.

Theo Wargo/Getty Images
Karen Gillan and Sabrina Carpenter at the Jonathan Simkhai show during New York Fashion Week Spring 2018 in New York, New York, September 2017.

Desiree Navarro/Getty Images
Yo Gotti and Nicki Minaj at the Philipp Plein show during New York Fashion Week Spring 2018 in New York, New York, September 2017.

Thaddaeus McAdams/Getty Images
Fabolous at the Philipp Plein show during New York Fashion Week Spring 2018 in New York, New York, September 2017.

Thaddaeus McAdams/Getty Images
Swae Lee and 50 Cent at the Philipp Plein show during New York Fashion Week Spring 2018 in New York, New York, September 2017.

Thaddaeus McAdams/Getty Images
Kim Kardashian Takes W's Screen Test: