Busy Philipps' Daughter Birdie Is an Instagram Genius Just Like Mom
Birdie dressed up as Busy this Halloween.
---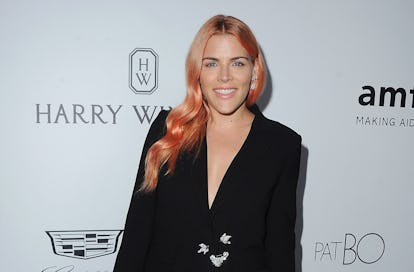 Jon Kopaloff/Getty Images
Raiding your mom's closet for inspiration has taken on a whole new meaning now that Busy Philipps—Freaks and Geeks and Cougar Town alum, and Instagram Stories user extraordinaire—has shared a photo of her eldest daughter, Birdie, dressed up in a costume so on point a triple take was necessary to make sure it wasn't a snapshot of Busy Philipps herself.
In the Instagram photo, Birdie wears a colorful caftan, dangly earrings, and white sunglasses, all while clutching a Ban.do "chill pill" iPhone case, exactly like her mom is wont to do when she's driving around Los Angeles and regaling her fans with tales of Julia Roberts watching her on Instagram, or dying her best friend Michelle Williams' hair a shade of millennial pink. Birdie is also sporting the Gucci Ace sneakers coveted by hypebeasts and Cool Moms alike. Of course, the look would not be complete without a signature beaker of iced coffee, and she's even got her mom's clever pout down pat. Birdie might have been saying something along the lines of, "I'm going to LEKfit," which is her mom's boutique gym of choice.
Philipps later posted her own commentary about her daughter's genius costume to Instagram Stories, tearing up as she said, "How funny is Birdie's costume? It's so sweet. I know she's making fun of me… she's just her own person and I really respect that. That's all I want for my kids. And also for them to be smart, and sweet, and generous, and kind, and sweet… and think of others. That's all."
If you weren't aware before: Busy Philipps' Instagram is a goldmine, filled to the brim with honest confessions of what it's like to work in the film and television industry, throwback gems and anecdotes from her past, and just extremely adorable content of her kids telling jokes. Knowing Birdie, Philipps' eldest daughter, who has a smart and relatable sense of humor, this costume was likely her idea. Now that it's clear that Birdie and Busy are officially twins, don't be surprised if Birdie starts her own parody account of her mom's Instagram, or if her younger sister, Cricket, starts her own "unboxing" series on YouTube.
Related: Julia Roberts Told Busy Philipps She Loves Her Instagram Stories