Beyoncé Is Such a Mom on Instagram
Beyoncé shares an empowering video on Instagram for International Day of the Girl.
---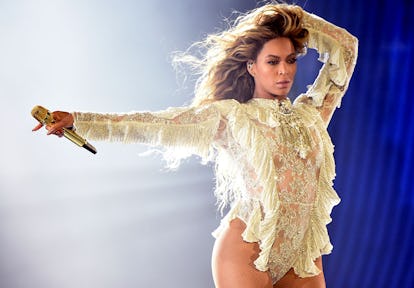 Kevin Mazur/Getty Images
It's clear by now that Beyoncé does not use Instagram the exact same way as her celebrity counterparts, nor does she just post pictures of meals and sunsets like most of the app's non-famous users. She doesn't just post simple video selfies, either, but what she's truly cornered the market on is music slideshows. Using the carousel feature to showcase looks and corresponding slideshows set to what one can only assume is music from the most Cool Mom playlist to exist—tracks from Syd for the lo-fi loving hypebeasts, Bruno Mars for the traditional Top 40 fans, The Commodores if you prefer the oldies—she clearly loves to flex in her outfits just because she can. This is perhaps only the second most "mom" way to use this app (as evidenced by all of the zealous comments that scream "Mom!" on all of her posts). The superlative of "Most Mom Use Of Instagram" would probably have to go to Beyoncé's own mother, Tina Knowles Lawson, who is known for her "corny joke time" video series that apparently embarrasses her daughter. In her most recent outfit slideshow, Queen Bey poses against a marble background, set to the sounds of Atlanta rapper Playboi Carti's unofficial song of summer, "Magnolia."
Recently, Beyoncé has set herself apart from the rest by using her platform to not only bring entertainment to her followers with a pinhole-sized peek into her personal life, but by utilizing the app to raise awareness and demand action from the world for various causes. On Wednesday, she released a video supporting International Day of the Girl on her Instagram, which features young girls around the globe lip-syncing to her powerful Lemonade track "Freedom" as sobering statistics such ("Every five minutes a girl dies as a result of violence" and "71% of human trafficking victims are female") flash on screen. With the help of Bey's soundtrack, the "global girls for global goals" dance around global monuments to show the world why they are angry and demanding to be heard.
In an effort to empower and fight for the girls' freedom, the video challenges the public to donate to the International Day of the Girl's #FreedomForGirls campaign, which includes specific calls to action such as working with Equality Now to end sex trafficking and Unicef to end violence by the year 2030.
"Freedom" – International Day of the Girl
The Houston native also took to Instagram recently to announce that the proceeds from her single "Mi Gente" will go towards hurricane relief in "Puerto Rico, Mexico and other affected Caribbean islands," and is working with her mother, Tina Knowles Lawson, to assist those displaced from Hurricane Harvey in Texas. We already knew girls ran the world, but Beyoncé has reminded us all that change is not possible without actionable knowledge.
Related: Beyoncé's First Post-Pregnancy Performance Will Be a Hurricane Relief Concert
See W's most popular videos: