Beyoncé's First Post-Pregnancy Performance Will Be a Hurricane Relief Concert
The duo is taking over the Barclays Center.
---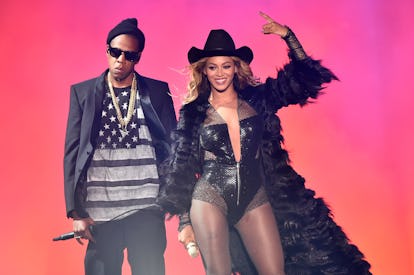 Larry Busacca/PW/WireImage/Getty Images
Sorry, Coachella and your abundance of floral headwear—Beyoncé's first post-pregnancy concert will be for a much more humanitarian reason.
Bey and her husband, Jay-Z, will be co-headlining a benefit concert next month to support the victims of Hurricane Irma and Hurricane Harvey, both of which ravaged the southern United States in recent weeks. According to Us Weekly, the performance will be held at the Barclays Center in Brooklyn—unsurprising, given Jay-Z's ties to the venue—on Tuesday, October 17. Ticket information for the public will become more available in the upcoming days, and Us Weekly notes that many other Roc Nation artists will be expected to perform. The possible options are abundant: Rihanna! Shakira! DJ Khaled! Rihanna performing alongside Shakira and DJ Khaled!
Beyoncé, ever the generous soul that she is, has been a prominent figure in raising money and contributing her time in the aftermath of both hurricanes. (She's a native of Houston, which was devastated by Hurricane Harvey.) Days after Harvey ravaged the Gulf Coast region, the singer established a "Beygood Houston" relief fund on her website and volunteered for a day, handing out food and other items at a Houston shelter.
"You are such an incredible example of what light and love is," she told a crowd of survivors. "And this today is a celebration of survival. Y'all are my family. Houston is my home. And I thank God that y'all are safe, that your children are safe. The thing that really matters is your health and your children and your family and God. And I just to want to say I love you. I am so, so thankful to God that I feel blessed so that I can bless other people. And I ask you guys to continue to do that for other people."
Shortly thereafter, she also contributed her time to the Hand in Hand: A Benefit for Hurricane Harvey Relief telethon with a pre-recorded message that urged everyone to donate whatever pennies and nickels they have. Queenly indeed.
Related: When Beyoncé and Jay-Z Buy Art, They Bring Along Popsicles and and Shut Down the Whole Gallery
See What's Trending in W Video: